Faisal Faces Serious Financial Problems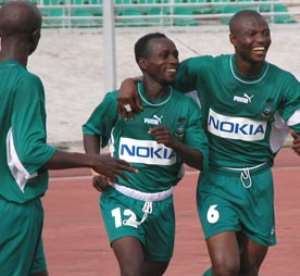 Ghana's only hope in continental football,Kumasi King Faisal are brooding over how to meet their financial demands as they go to Morocco to play AS FAR Rabbat in their impending CAF/MTN Confederation cup match on Saturday.
Initial arrangements for the trip were that the team will leave on wednesday via Alitalia through Milan in Italy but their reservations were concelled because the Management could not raise money to pay for the reservations.The next option was to go by Air Senegal to connect from Dakar to Cassablanca but there was the problem of flight connection from Dakar to Cassablanca.
The only option for the team now is go by Emirates Airlines through Dubai and then connect to Cassablanca and that will be possible if the team is ready to go in two batches with the first batch leaving on Wednesday whiles the 2nd batch leaves on Thursday to arrive on Friday for the game on Saturday.The team on it's return will come by Air Senegal through Dakar to conne! ct to Accra next week Wednesday night.
According to the Chief Executive of the Club, Mr.George Amoako who poured his lamentations on AUTHENTIC KAPITAL SPORTS all of these problems have come about because of serious financial problems the team has been facing since their campaign in Africa commenced. Mr. Amoako blamed CAF for the predicament of his team because it has not been able to announced to them when their monies for qualifying for the campagn will be made availablre to them.
He said the team has been borrowing since it started the African campagn and their creditors are getting incrasingly impatient with them because they have not been able to make firm commitments on when to pay back monies owed them.Mr Amoako said he is burnt on preparing the minds of his team for the game inpite of these problems.
The 26-man contingent will be led by the Deputy General Secretary of the Ghana Football Associatin Mr.Ampem Darko.