Ghana on brink of World Cup finals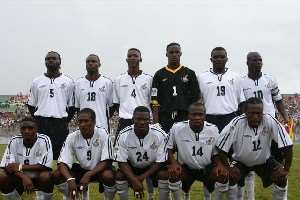 KUMASI, Sept 4 - Early goals from Michael Essien and Matthew Amoah earned Ghana a comfortable 2-0 win over Uganda in Kumasi on Sunday and put them one point away from their first World Cup finals appearance.
Ghana moved three points clear at the top of the African zone group two standings and can now only be caught by the Democratic Republic of Congo, who were 2-1 home winners over the Cape Verde Islands.
However, it would take a major swing in goal difference on the last day of qualifiers on October 8 to deny Ghana's Black Stars a place at next year's finals in Germany.
Essien, who recently signed for English champions Chelsea, scored in the 11th minute and Dutch-based striker Amoah got the second four minutes later as Ghana made a perfect start in front of an expectant crowd.
The match ended with their Serbian coach Ratomir Dujkovic carried shoulder high by delirious supporters, despite Ghana's failure to build on their early lead.
Ghana finish their campaign with an away match at the Cape Verde Islands in Praia while the Congolese travel to South Africa for their final outing.
Future World Cup hosts South Africa had their last remaining chances of qualifying for the 2006 event dashed by Ghana's win.