Citizen International Hockey Club Donates Hockey Equipment To Volta Hockey Association Club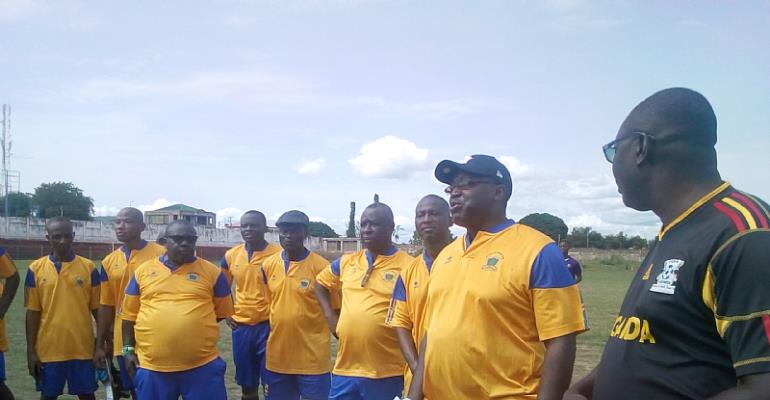 The Ho Hockey Club last Saturday, played host in a friendly encounter with the Koforidua and Citizen International Hockey club in the Volta regional capital, Ho.
The friendly, which took place at the HO Sports Stadium witnessed three games in a single all play all affair.
The host, Ho Hockey Club defeated CitizenInternational Hockey Club from Accrato score a point in the first game which ended 1-0.
In the second game, the Koforidua Hockey clubscored more points to thrash Ho Hockey Club 3-0.
The third and final game, Koforidua Hockey Club pooled points with Citizen International Hockey Club, ending the game proceedings 1-1.
Though, a friendly butcompetitive encounter it was aimed at preparingVolta's Hockeyteam for the upcoming National Sports Festival in July.
As a token of encouragement and support towards reviving the sport, the Citizen International Hockey clubs donated 16 new Hockey sticks to the Volta regional Hockey Association.
The technical director for development for the Ghana Hockey Association and a founding captain of the Citizen International Club, Dennis Amoa–Ababio, also donated 16 old Hockey sticks and 6 Hockeyballs to the association.
The Citizens Hockey Club, one of the leading hockey clubs in the country for many years was formed in December 1985. It has benefitted immensely from most members of the Ho, Hockey Club.
A renowned Oil and Gas Engineer and the Chief Executive Officer of Ghana Gas Dr. Ben K. D. Asante who doubles as the chairman of the Citizen international Hockey club said the gesture was to improve, encourage and promote hockey as a discipline in Ghana.
"The motivation to do this is to promote hockey in general," he said.
He added that "Hockey has been in existence in Ghana for close to 60 years".
"Ho is near and dear to our hearts, a lot of our members came from the Ho Hockey Club".
"The point is about the social interaction, using hockey as the medium".
"We need to get the personnel, improve and develop them"
"We have to develop the base of players and coaching protocol and facility in the region"
Mr. Amoa–Ababio charged the executives of the Volta regional Hockey Association to support and raise school teams for the next Basic Inter-regional Sports Festival which comes off in Koforidua, in August this year.
He encouraged players to emulate veteran hockey stars from the region like Seyram Dzefi and Richard Bayitse who once played for the national hockey team in 1989.
The Ho Hockey club has been adopted by the citizen international Hockey Club.
The region has pride in Esther Akaba Nuatro who was adjudged the best female goaltender and captain of the U-17 national female Hockey team.