Alhaji Akambi Descends On Ekow Asthma On Live Radio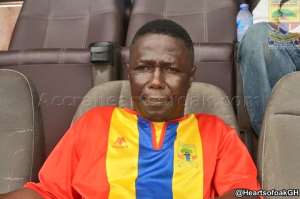 Board member of Accra Hearts of Oak, Alhaji Akambi literally descended on Ekow Asthma on Asempa FM this morning following some comments he made about him and how Accra Hearts of Oak have been doing their player recruitments.
Hearts of Oak last week parted ways with four players including new signing, Theophilus Jackson and defenders Evans Qauo and Joshua Otoo as well as Cosmos Dauda.
Ekow Asthma, a regular guest on the Ultimate Morning show this morning, expressed his desire to know what credentials people who do recruitments and sign players for Accra Hearts of Oak have to be able to do that job. He, of course, made those pronouncements rhetorically.
This did not go down well with Alhaji Akambi who was tuned into the program and he immediately phoned in to address the issue. The Board member emphasized that he does not handle recruitments at Hearts of Oak but rather is involved in a team that oversees the negotiations of deals. He also explained that they look at player profiles when a coach makes recommendations for certain players to be signed.
Accordingly, Alhaji revealed that he was part of the team that recruited Evans Qauo with a recommendation coming from the then coach Frank Nuttal.
Moving on, he debunked claims suggesting that he was the one in charge of Negotiations with hearts of oak players who left the club at the end of the season. He disclosed it was rather Saddick Adams, popular known as sports Obama who was talking to the players.