Will History Repeat Itself In Russia 2018? Football Fans' Predictions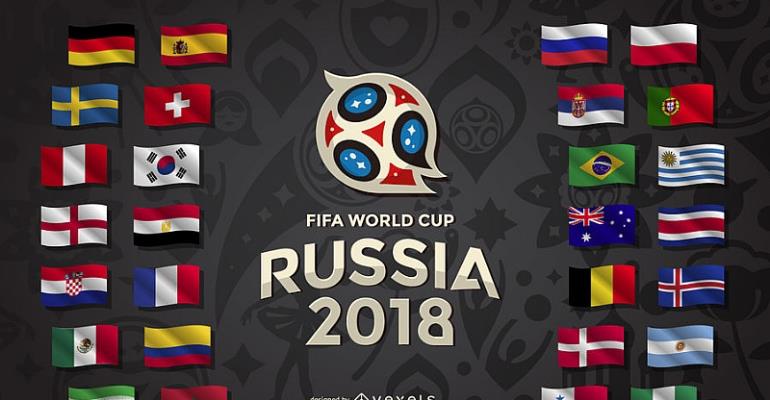 The world's most cherished sports mega-event is here again and millions of people spread across the globe cannot wait to witness how the giants and favourites of the game will conquer the minnows and the resilient and vice versa; all in the name of lifting the prestigious trophy at the end of the tournament.
The FIFA World Cup 2018 to be hosted in Russia is expected to be a colourful event with creativity and dexterity than the previously organised. This has made the sport very important in many countries' economy due to its unique appeal and viewership.
These include the die-hard fans who often travel with their teams or clubs to all venues and watch their matches. The role of die-hard fans whose only reward is for their favourite teams to win cannot be overemphasized. As the tournament draws near, we cannot ignore the passion and sometimes, the conflicts that ensued at the coffee shop conversations, pubs, lorry terminal gatherings, daily media coverage and pundits' prediction, and above all the excitement in day matches. Ostensibly, the fever of the FIFA World Cup 2018 in Russia has arrived with the passion and anxiety of the fans gathering momentum. A test of this euphoria has been ignited through a survey to gather views of followers of the game on which team(s) will be finalists and eventually lift the trophy.
We should not forget that football has become an object of interest for millions of people since its evolution and development in the world. At the world cup stage, nations are anxious to promote their identities and cultures via their team's representation to the international community. Fans' association with the game is insurmountable and so are their predictions of the possible winner for the 2018 edition. Some scholars have reported that coaches and managers use data mining systems (archival documents from sports) to help them not only to predict their game results but also player performance assessment, player injury prediction, sports talent identification, and game strategy evaluation. We differ from this methodology to use primary data gathered through a survey of 261 respondents. Our survey was limited to Ghanaian fans (based locally and abroad). The choice of Ghana was to control for possible bias emanating from the tendency for respondents to be nationalistic or patriotic which could have been unavoidable if Ghana had qualified for Russia 2018.
World Cup fans were quizzed to predict their possible winner of the Russia 2018 and the African representative that can advance in the tournament. Demographic description of respondents such as age, years of following world cup and gender were considered. As usual, the females' representation was low due to Ghana's national team exit from the qualifier, which notwithstanding, they predicted in favour of Germany (4.6%), followed by Brazil (1.8%) and Argentina (0.7%) and with Spain, England and Egypt (0.4% each). Some reasons for their choices include quality of their team, previous world cup records, quality players, team's tactical discipline and their love for iconic players like Messi, Neymar, etc. They also did not hide their family ties to some of those countries as an in-group influence and solidarity for clubs' attachment. Respondents rated the Egyptian national team far ahead of Nigeria and Senegal to impress and advance at this year's world cup.
Similarly, the male's prediction reflects the same trend for African representatives because they also described the Egyptian national team as having unique team values like commitment, devotion, consistency, teamwork, team spirit and with the prowess of their talisman and the newly crowned PFA's player of the English Premiership with his exploits in Europe, Salah Mohammed has what it takes to lead them to achieve that feat internationally. Male Ghanaian fans predicted Germany (46%) followed by Brazil (28.1%), Spain (13.3%) Argentina (8.4%), France (4.2%) as those national teams with a great chance of winning in Russia 2018 world cup. The pie chart below illustrates the fans' prediction.
The eventual winner after the centre referee finally blows his whistle to bring the tournament to a close in the Luzhniki Stadium, Moscow will be one of these countries. Some reasons for their choice include the team's quality, team values, quality and talented players, previous records and experience, a blend of young and experienced players, iconic players and solidarity. Yet they did not rule out other factors including politics and maladaptive behaviours on the part of some players and fans that can impede a team chances of winning the tournament.
Ghanaian soccer fans have predicted the following countries in order of most likely; Germany, Brazil, Argentina or Spain. The African country likely to advance to prestigious stages of the tournament is likely to be Egypt. The predictions are informed by fans' continuous followership of previous tournaments. It is interesting to find that all the predicted teams have played in the finals of recent tournaments. Will history repeat itself as Germany defends the prestigious trophy? Other fans are welcome to share their prediction on this subject before it kicks off on June 14, 2018, in the Luzhniki Stadium in the city of Moscow. This report wholly represents the views of respondents and not the writers. We look up to an exciting event in Russia.
Authors:
Ellis Kofi Akwaa-Sekyi (University of Lleida, Lleida, Spain & Cath.Univ. Col. of Ghana, Sunyani) and
Dr Ernest Y. Acheampong (University of Education, Winneba, Ghana)