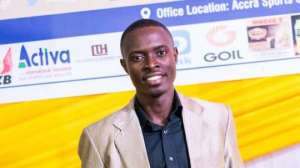 Ghana's top table tennis seed, Derek Abrefa, is relishing a successful outing in the upcoming Olympic Games to be hosted in Tokyo in 2020.
Abrefa at this year's Commonwealth Games in Goldcoast, Australia won all his matches to top his group, which paved way for him in the main draw and surpassed the round of 32 after beating a Mauritius player but missed out on a place in the quarter-finals after Canada's top seed player, Xu Weng.
According to Abrefa representing Ghana at the 2018 Commonwealth Games offered him a great opportunity to lock horns with the best and top players in the world and this has broadened his experience on the international stage.
Abrefa told GNA Sports, "It was a great experience playing highly ranked top players in the world. If we get the opportunity to battle most of these players often, it would enhance our play and take us higher.
"The more you play with many of these players, the more you get a broad idea of the game. I have learnt a lot and after everything, I realised there was a lot to learn and add to my game if I want to become one of the best players in the world and make my nation proud.
Abrefa who is a student of the University of Cape Coast and a personnel of the Ghana Immigration Service believes the future remains bright for Ghana's tennis despite the changing trends involved in the sport and relishes success for Ghana going forward into future competitions.
"The Ghana team compared to the previous competitions, I would say, we have really improved a lot and if all players will be committed can make waves on the globe because what we played here with them are the same thing we experience outside. They only need to be exposed to the terrain and catch up with the speed of the current table tennis.
"My ultimate dream is to be part of the final African team to represent Ghana and Africa coming Olympics. I couldn't make my way to the last Olympics due to inadequate support. We tried but for one or two reasons, we couldn't make it to the final team.
"With what our coaches are putting in place for us, I think Ghana has the chance or making it to the Olympics and also to make waves at that high level," Abrefa told GNA Sports.
Abrefa further appreciated everyone who supported him at this year's Commonwealth games and assured his fans of better results in upcoming competitions.