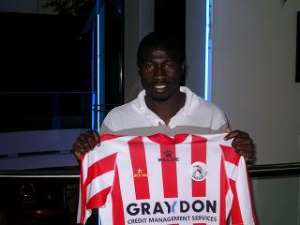 Ghanaian midfielder Anthony Obodai joins Dutch side Sparta Rotterdam from rivals Ajax Amsterdam.
Ghanaian midfielder Anthony Obodai has signed a two-year deal with the Dutch first division side Sparta Rotterdam.
The 23-year-old joined the newly promoted team on Tuesday from rivals Ajax Amsterdam, after a proposed move to the English club Luton fell through on Sunday.
"We had very good negotiation with the club and I am pleased with the offer they have given me," Obodai told BBC.
"The coaches and the playing body are happy to see me here and I am also happy to bring my experience to them and to help the team to attain a position in the league."
Obodai joined Ajax in 2001 and made his league debut against Heerenveen in November 2004, and played 32 matches in total for the team.
But he has recently struggled to hold down a regular position in the team.
"Ajax is a very good team but I have recently been played out of my normal position," he said.
"Therefore I need move to another team to ensure that I play football regularly and to be in good form to fight to place in the national team of Ghana."