LOC Chairman Denies Bribery Charge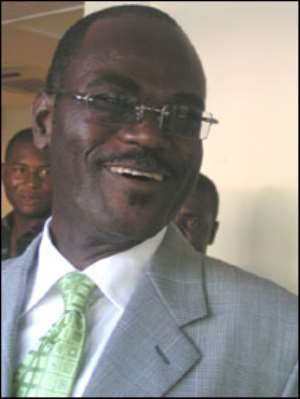 Dr. Kofi Amoah, chairman of Ghana's Local Organizing Committee for the 2008 African Cup of Nations, has debunked bribery allegations leveled against him in media circles.
The private businessman was part of a delegation that visited China last week in line with the nation's plan for the construction and rehabilitation of stadia for CAN 2008.
Dr Amoah (pictured) is one of three persons mentioned in connection with an amount of $20 million reported to have changed hands in the award of contracts on the construction of two new stadia to be used for hosting the CAN 2008 football tournament.
"You don't get it all the time. This is something that is just happening in Ghana, so the people who are going around and saying that well - Ghana is showing that it is not fair. They don't understand what they are talking about.
"This is a bid and in a bid, it is told to us that the buyer doesn't have any obligation to buy from you. Lets cast away this negativity in our society."
"This is international bidding, any sophisticated company knows that you spend money and time to try and win a contract." Kofi Amoah said.
The other two individuals named in the alleged bribery scandal are sports minister, Yaw Osafo Marfo and his deputy, O.B Amoah.
In an exclusive interview, with a local radio station -JoyFM - Dr Amoah described the allegation as an attempt to slander his person.
"When I took this challenge I knew that at some point my character would be attacked.
"Kofi Amoah doesn't operate on that (bribery). I'm doing it because I love my country." He said.
He explained that there was no underhand dealing in the evaluation of the bids for the contract.