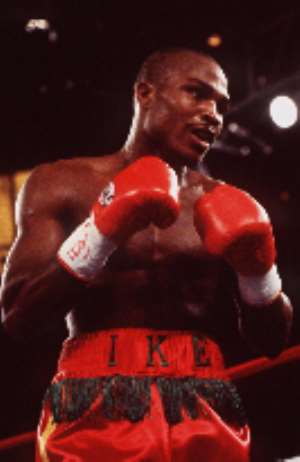 Ghana's world title hopeful Ike Bazooka Quartey is still in the hunt for an opponent, months after his win against former IBF and WBO champion, Verno Phillips.
Quartey who has set his sights on annexing the middleweight title before the end of the year faces a further two months of inactivity before stepping into the ring again.
Though Quartey has a tentative November 12 fight date in the United States, his promoters have been unable to lockdown an opponent for the Ghanaian hard hitter.
Ike was in line to face Kassim Oumar for the IBF junior middleweight title on the said date, but the Ugandan lost his title to Roman Karmazin.
Following his surprise win, Karmazin has declined to defend his title against the highly rated Quartey.
Quartey's camp has made attempts to get a showdown with Kassim Oumar, Fernando Vargas or Winky Wright. Meanwhile, boxing's golden Boy Oscar De La Hoya is planning another comeback.
De La Hoya is considering facing Fernando Vargas or Ricardo Mayorga in May, then Winky Wright in September.