Stars-Cranes: 3 key strikers disappear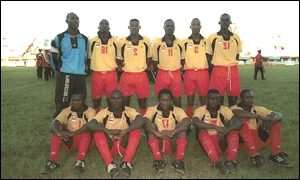 Rwandan-based Hassan Mubiru has been recalled to the Cranes fold, but the national team's training for the September 3 World Cup/Nations Cup qualifier against Ghana has been hit by the disappearance of strikers Robert Ssentongo, Tony Odur and Martin Muwanga.
Ssentongo (SC Villa) and Odur (Express) have allegedly moved to Denmark in an attempt to join AJF FC, while Muwamga is believed to have gone to Ethiopia for trials with Sredojevic Micho's St. George.
Crane's Assistant coach Sam Ssimbwa confirmed the developments, and later revealed that Argentinean-based Ibrahim Sekajja and South African-based Timothy Batabaire have also been summoned.
Sekajja is reported to be in the process of moving to the Argentinean top flight, while Batabaire plays for top South African club Bloemfontein Celtic.
"Muwanga called me before he left and confirmed that he would join the team over the weekend, but I don't think that's possible and I have been informed Ssentongo and Odur are out of the country. That's why we had to resort to Mubiru," Ssimbwa said.
Police FC's assistant coach Charles Ayieko also confirmed Muwanga's move to Ethopia.
"Since our boys trust the policy here that we don't stop them from trying their chances in the professional ranks, he informed all the top club officials here about his travel but also said he would be here to play in the league final against SC Villa. I wish him luck," Ayieko said.
Muwanga's strike partner at Police, Geoffrey Massa, is one of the few attackers left in camp.
Ghana tops group 2 with two games to go, and will move closer to the World Cup if they win.