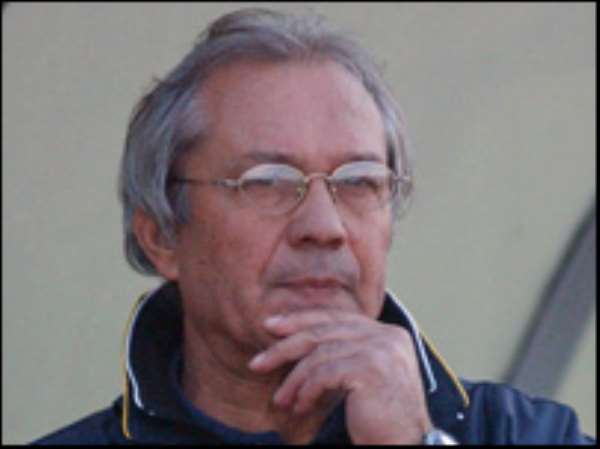 Accra, Aug 22, GNA - Ratomir Dujkovic, head coach of Ghana's senior national team, the Black Stars has down played media reports concerning Uganda, Ghana's next opponent in the World Cup qualifier, saying "it could be a psychological ploy adopted by the Ugandans to outwit Ghana".
"I don't believe in the stories making the rounds that the Ugandans are having problems in their camp and might even come to Ghana without a head coach, because such stories are part of the strategies adopted by opponents to out-perform others in the game of football," Coach Dujkovic said in interview with the GNA Sports on Monday.
Coach Dujkovic said the news will not take anything away from the level of seriousness of his team because each match is very important to the progress of the nation towards her first World Cup appearance in Germany next year.
Recent media reports from Uganda indicates that the East Africans are finding it difficult to raise a team for the match against Ghana and might even come to Ghana without a head coach.
Coach Dujkovic said he views the match against the Ugandans as the most important of all the qualifiers because Ghana has not beaten them over the past years and the time is ripe for them to achieve that. "We need the three points from the Ugandans very badly and I am not going to take the match lightly, it is like a World Cup match to me and not a qualifier".
"I can't see us slipping at this crucial stage of the qualifiers, therefore we are going all out to ensure that the three maximum points are picked after the 90 minutes of action" Coach Dujkovic indicated. He, however, cautioned Ghanaians not to jump into jubilation yet because the road to the World Cup is still far from over and there is the need for all to remain focused.
According to the coach, he is worried about the atmosphere in Ghana as well as their attitude because many people are underrating the Ugandans and most people have already drawn conclusions that Ghana has already qualified for the World Cup.
He said that even though the match against South Africa was the decider and with the fact that the South African's have two difficult matches against Burkina Faso and DR Congo, it does not mean the task will be easy for Ghana.
"I don't know why people have jumped to the conclusion that we have qualified for the World Cup, we need to be cautious or lese we will be taken by surprise"
"We have opened the gates but not yet entered, it will take two more steps before entering and that is Uganda and Cape Verde, so why the jubilation?" Coach Dujkovic questioned.