Kuffour's Apology Rejected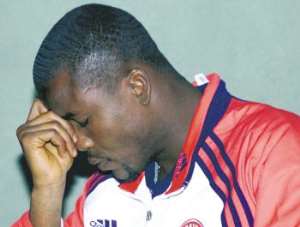 Accra, Aug 22, GNA - Coach Ratomir Dujkovic, helmsman of the Black Stars said the recent stage-managed apology by Deputy Skipper Samuel Osei Kuffour on television was a public relation mechanism by a section of the sports media to enable the player to gain a recall into the team. He said the programme aired on TV3's "Talk Sports" was part of a ploy by some sports journalist to bring pressure to bear on him to recall Kuffour.
The player had accused the coach and officials of the Ghana Football Association (GFA) on BBC radio as liars ahead of the team's World Cup qualifier against DR Congo some three months ago.
Kuffour's former club, Bayern Munich, had informed the coach that the player was not medically fit for the match and as a result his name was axed from the squad.
Coach Dujkovic told the GNA Sports on Monday that he had rejected the apology and unless the player expressed remorse and used the same medium he used in insulting him to render a proper apology he would not have a place in the team.
The coach said the synopsis he received before the programme did not indicate that the player would be speaking with him on the show and therefore found it "funny" and surprise when the player called to render "that" apology.
"I suspect foul play in the whole arrangement and I believe it was a deliberate move to get the player to apologise through the back door," the Serbian said.
"He should go to the BBC and the media houses he used in Ghana to insult me to render the apology," Dujkovic added.
"What he did on the show cannot be said to be an apology, he only tried to do something like that," the Coach said.
The expatriate coach said he was satisfied with the current defensive set-up of the team, but would not hesitate to travel to Italy to monitor Kuffour's performance if he did the right thing.
"I don't understand why the media is making so much noise about Kuffour as though without him, the team can't qualify," he said.