Black Stars Shine in Brentford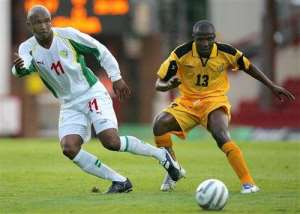 They could be at the World Cup next summer, but last night Senegal and Ghana were in Brentford. And the match was about much more than Michael Essien, writes Paul Doyle Thursday August 18, 2005
There was an international match in London last night between two countries with decent chances of playing in next summer's World Cup. Yet you'll be hard pressed to find any mention of the Senegal-Ghana game in the British press this morning, and the few references that are made to it contain this silly falsehood: "The biggest cheer of the night came in the second half, when new Chelsea signing Michael Essien arrived to watch." Ha! As if the whole world is as Premiership-obsessed as the English media.
The fact is the loudest cheer of the night came when Senegalese debutant Rahmane Barry chopped down Kingston Laryea in the box to give the Black Stars a penalty - not surprising given that most of the 3,000 fans at Brentford's Griffin Park were festooned in Ghanaian flags and scarves. And when Stephen Appiah, whose every deft touch had been applauded since the first minute, blasted the spot-kick against the bar, the incredulous cry was almost as loud. But even when play was mired in midfield, the decibel levels hardly dropped. Because there was noise - or rather, music - from start to finish.
The thousands of Ghanaians sung and danced, the (approximately) 73 Senegalese danced and beat their djembé drums. The neutrals bobbed and boogied as best they could. And chortled loudly when the stadium announcer hopefully blared "Griffin Park is like this every Saturday! Support The Bees!"
(Actually, given the efficiency and warmth with which they hosted last night's main event, Brentford do deserve support, and, indeed, are facing extinction if they don't get it . Go here to see how to help: www.backthebees.com).
The players certainly appreciated the party atmosphere - Ghana's Emmanuel Pappoe delayed returning to the dressing room at half-time so he could dance with fans near the touchline, while Senegal substitute Diomansy Kamara enjoyed chatting to the revellers as he warmed up, particularly with one very pretty woman.
But that did not detract from the fact that both teams treated the friendly with far more seriousness than, say, Sven-Goran Eriksson ever does - for both it was an essential part of their preparations for their World Cup qualifiers in two weeks. It may have ended 0-0, but that was not because of any indifference.
Senegal were particularly eager to arrange the fixture. They had been scheduled to play France but that was aborted for financial reasons, as was Plan B - a meeting with Iceland - but Plan C turned out to be ideal, since Ghana's zippy 4-4-2 system is similar to that deployed by Zambia, whom the Senegalese must beat in Lusaka on September 4 if they're to stand any chance of returning to the tournament they gatecrashed so sensationally four years ago.
This was Senegal's first outing under new managerial duo Abdoulaye Sarr and Amara Traoré. Both were on the backroom staff under Frenchman Guy Stéphane, who was sacked last June after the Teranga Lions were held to a 0-0 home draw to surprise group leaders Togo, the latest in a series of flaccid performances. Unfortunately for Sarr and Traoré, last night's one wasn't much better.
Senegal looked clueless going forward. Tony Sylva was at his agile best in goal, flipping away several long-range blockbusters, and centre-backs Lamine Diatta and Souleymane Diawara were solid, but with Pape Bouba Diop and Khalilou Fadiga both missing from the midfield, they lacked power, pace and creativity. Wigan's Henri Camara and Marseille's Mamadou Niang - purportedly strikers, but seemingly deployed as midfielders in a torpid 4-5-1 formation - contributed nothing. Full-backs Ferdinand Coly and Habib Beye seemed to delight in faffing around the flanks rather than genuinely driving forward the way Coly and Omar Daf regularly did in the past.
And the lone frontman, El Hadji Diouf lumbered about aimlessly - his only interesting input into the evening coming late in the second half, when he booted Abubakar Yahuza, apparently out of frustration at failing in an extravagant attempt to dribble past three defenders. Referee Andy D'Urso showed he'd gotten carried away by the festive atmosphere by only issuing a yellow card.
Ghana's Serbian coach, Dujkovic Ratomir, could be much more satisfied. Fielding a team that, unlike Senegal, featured several players from their domestic league, the Ghanaians played, also unlike Senegal, with genuine fluidity. In the absence of Essien, it was up to the artful Appiah, who recently moved from Juventus to Fenerbahce, to orchestrate matters from the middle, which he did with brash skill and astute passing.
Ghana are currently top of their World Cup group, level on points with South Africa, whom they've already beaten home and away. Their two remaining games are at home to last-place Uganda and away to the tricky Cape Verde Islands. If they win them, it will be because their defence is solid - as it was again last night even without Roma's Samuel Kuffour - and because midfielders Appiah, Essien and Sulley Muntari can usually be relied upon to score goals. But Ghana's main weakness is that their strikers cannot.