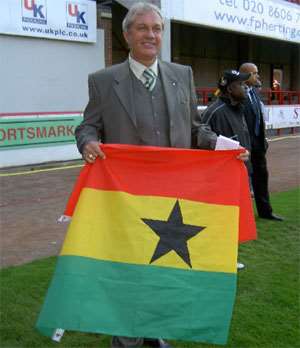 Chelsea's imminent signing Michael Essien has been warned his Ghana place could be at risk after missing the friendly with Senegal at Brentford. Ghana coach Ratomir Dujkovic said Essien faces possible action if he misses the next game against Uganda.
Essien, 22, and Chelsea secretary David Barnard arrived together midway through the second half at Griffin Park.
"This is friendly but if he misses the competitive match against Uganda we will take some steps," said Dujkovic.
Essien is expected to sign a five-year deal with Chelsea this week in a £26m move from French club Lyon.
Chelsea are hopeful of completing the deal, which has been held up by paperwork, in time for Essien to be available for their game with Arsenal on Sunday.
He told us a few days ago that he would come and play
Ghana coach Ratomir Dujkovic
Dujkovic added: "He was meant to meet us at the hotel on Tuesday, we expected him to come, we didn't know where he was.
"I'm not disappointed because this was a friendly but I am worried for our next fixture against Uganda. I believe he will be in that team and will join us.
"This is a special occasion now for him and for Chelsea so he is not concentrated on playing for Ghana.
"He told us a few days ago that he would come and play - I hope the only reason he missed this game was because of all that has happened with this transfer."