Ghana's Young Swimming Team Buoyant For GC 2018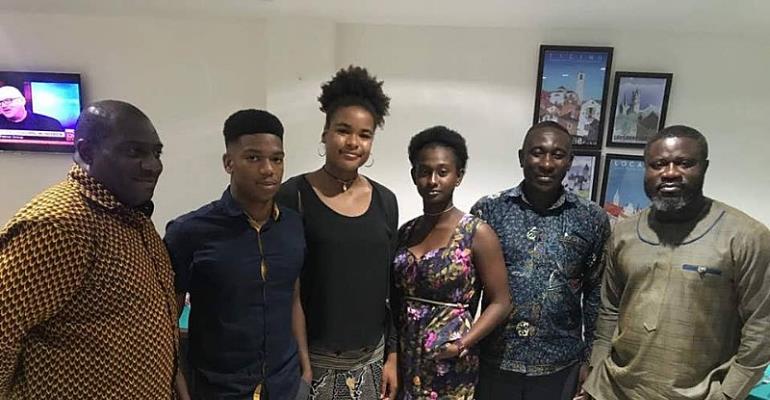 The swimming team of Ghana will depart for Australia to participate in the 2018 Commonwealth Games as one of the final contingents of sportsmen and women to leave on Monday, March 26, 2018.
Before they flew, they were hosted to a dinner by their Communications Director at the Alisa Swiss Hotel.
The team comprising Rebecca Asare, Ayawere Maya, Abeiku Jackson and USA based Duke Jason Arthur and Coach Kojo Abbew Jackson are all elated, cheerful, focused and determined to cause a sensation at the Games.
President of the Ghana Swimming Association (GSA), Theo Wilson Edzie charged the young swimmers to go out there and do what they love doing best and surprise the world.
He was very optimistic that the 4 gallant Ghanaian swimmers for the 2018 Commonwealth Games are going to shine, and even if they do not get the gold, they are going to dish out golden performances, like how a BBC Commentator once described the glides and strokes of Abeiku Jackson, Ghana's leading swimmer at the last Games.
He advised them to swim to their best and appreciated their efforts at training and trusted that one of them could be an African and World champion.
He thanked the coach and the NSA Board chairman, Hon Kwadwo Baah Agyeman and the Vice President of the Ghana Olympic Committee (GOC) Paul Atchoe, who were present as guests to give the swimmers motivation and extra support.
Theo Wilson Edzie informed them that plans are in progress for a bigger and better platform in Tokyo 2020 Olympic Games which should be their target for fame and honour.
The NSA Board chairman advised them to be confident and motivate themselves and the chosen few and be signals of hope.
"I know that with the prayers of Ghanaians, you are going to excel. The government has promised $5,000 for gold, while an Australian businessman wishes to top it up with $10,000, this can support your education, do be focused and do your best for Ghana" he said.
Also present were parents and relatives of the swimmers.