March 2, 2018
|
Sports Football News
Ex-Ghana U17 Coach Opeele Breaks Down In Tears On Asempa FM Over 'Unexplained' Sacking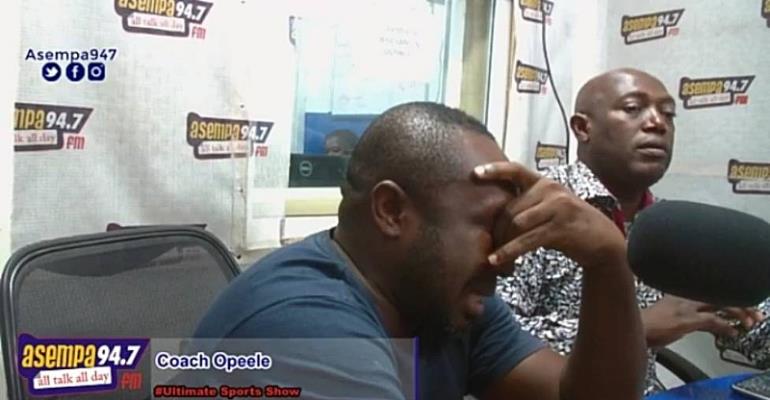 Former assistant coach of Ghana's U17 male team Isaac 'Opeele' Boateng broke down in tears on a live radio show in Accra over his sacking three years ago on Friday morning.
The former Asante Kotoko and King Faisal head coach couldn't hold himself when the bribery allegations levelled against new Kotoko head coach Paa Kwesi Fabin by Kwadwo Poku Mahala was played on the show.
Opeele stated when commenting on the show that he was not given a hearing was relieved of his post on the national side.
Sources at the Ghana FA, however, claim the pocket-size outspoken man got the sack because of bribery allegations.
"I forgive Fred Crenstil because of Jesus Christ but I still do feel a lot of pain for my sacking. I was given no hearing at all," he revealed as he broke down in tears.
Opeele was sacked in 2015 after the Ghana U17 failed to qualify for the World Cup.
A stinking allegation claims a plush car was dashed to the head coach Paa Kwesi Fabin to include a player in the national team squad.
Fabin comes into the picture when former Kotoko striker Kwadwo Poku Mahala claimed the bloated tactician is a bribe-taker and doesn't trust him to be able to handle the Porcupine Warrior.
Fabin was maintained at his post with the U17 side and was in the dugout at the 2017 FIFA U17 World Cup in India.