Vacant ABU Heavyweight Title Fight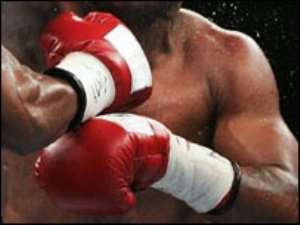 Nigerian boxing prodigy, Adewale Abe "The Tiger" has predicted a resounding victory ahead of his scheduled fight against Lee Manuel Osei of Ghana on August 26th at the Azumah Nelson sports complex, Kaneshie in Accra. The confident-looking Adewale noted that, Lee Manuel (his opponent) would have to perform a pure miracle to survive his onslaught when they mount the ring for the vacant African Boxing Union (ABU) heavyweight strap. Adewale was in the country last Friday to append his signature to the contractual documents regarding the bout. Adewale, who boasts of 24 wins, 2 losses, with 22 ending in knockouts, said he was looking forward to extending his knockout status to 23, nevertheless he would not appear intimidating over his opponent as he was poised to entertain an expected substantial crowd. "I will like to entertain the Ghanaian crowd, so I won't knock him out early. At least, we will travel beyond five rounds, unless he is just too bad," Adewale boasted. He said, notwithstanding the fact that the fight would be staged on his opponent's home soil; he would still beat him to prove to Ghanaians that he is a world-class material, ready for any opponent at any time anywhere.
"I will leave an indelible impression on the minds of Ghanaians," he asserted.
Indeed, the impressive fight record of Adewale could put fear in any opponent, but Lee Manuel does not seem scared by his Nigerian counterpart's record, as he promised to crush and severely punish him enough to put the fear of God in him.
Lee Manuel, who trains with the boxing legend, Azumah "Zoom Zoom" Nelson, said he would discipline Adewale to a point that would probably lead to the end of the professional career of his opponent.
The bout is one of the six interesting fights being put together by the Sikaprix - IFCO promotion syndicate.
The ABU light heavyweight titleholder, Briamah "Bukom Banku" Kamoko comes up against Sugar Ray Akwei Jnr in a make or break affair.
A fierce war of words had engulfed the eight-round bout; as their respective camps have sworn to over power the other.
"Bukom Banku" keeps saying he would subject his opponent to severe punishment before knocking him down.
Sugar Ray Akwei Jnr, on other hand, has described Banku's threat as empty, saying he would teach him a lesson in boxing and use him as a springboard to relaunch his boxing career.
Akwei Jnr. who is also a former West Africa light heavyweight champion, was of the view that Bukom Banku had been protectively selective in the choice of his opponents so far, hence had not met any formidable opposition like him (Akwei Jnr.) in his career.
Other interesting pairings on the bill include a 10-round elimination bout between Kpakpo Allotey "Bukom Flash" and Ben "Congo Soldier" Ankrah.
Yakubu Aminu will sort things out with Smith Odoom in a 12 round super featherweight title fray.
The "Bukom Jah", Lartei Lartey would hope to soar above Isaac "Chorkor Dynamite" Quartey in their super lightweight encounter.
Ayitey Powers and Ebole Isaka Flash would battle for the Super middleweight title over 12 rounds.