Maggie Wins Ghana's First Athletics World Medal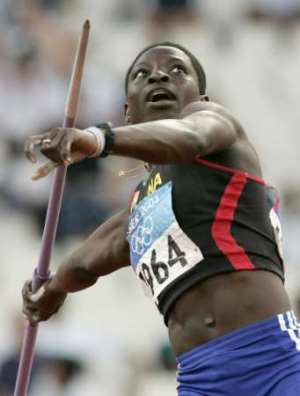 Competing among 40 heptathlons, Ghana's Margaret Simpson's chance of winning a medal at the 10th World Athletics Championships in Helsinki was like a wild goose chase.
But last Sunday,she left the Helsinki Olympic Stadium an accomplished athlete with a bronze medal proudly tagged around her neck,stunning the star-studded line up of hepthathlons.
And moments after the 800m,the last of the seven-event competition, she won Ghana's first medal in track and field at the Athletics Championship with total 6375 points, finishing behind the Olympic champion, Carolina Kluft of Sweden who won with 6887 points and former world champion and now silver medalist, France's Eunice Barber, who finished with 6824.
"I am really happy to have finished third out of the lot because it was such a tight competition.I think I did well today.
"My great result in javelin (56.36 m) helped me to beat Andre Skujyte. It is also a new National Record for Ghana. I also made two personal bests in the shot putt (13.33m) and in the 800 metres (2:77.02) today, "an elated Maggie said.
Indeed, only ranked seventh in the world of 50 competitors, and with many heptathletes who are ranked above her, the African queen began the day with a good race in one of events, the favourite 100m hurdles, finishing second behind Kluft.
Simpson, twice voted SWAG's female athlete of the year in 2003 and 2004,as well as the Sports Personality of the Year in 2003, continued her vintage show keeping her points within the first four — picking up crucial points in the long jump with 6.09m, and another personal best in her least favourite event,the 800m in which she clocked a time of 2:17.02 secs.
Simpson sealed the deal and literally snatched the bronze from Skujyte when she won the javelin throw, her favourite. She easily won that competition with a throw of 56.21m, her personal best since becoming a heptathlete.
Unfortunately, what was to be a double celebration for Ghana on that night ended in disappointment as sprint king and Africa's only finalist in the 100m,Aziz Zakari finished last in the hotly contested race.
Zakari had hopes raised that he was in the reckoning among the pack folowing his execellent pre-competition performances.
But the pack of stars in action, including Olympic champion, USA's Justin Gatlin, World Championship title holder,Kim Collins of Kitts and Nevis,Olympic silver-medalist,Francis Obikwelu, the Nigerian-born now running for Portugal,was perhaps,too much for him to break.
He failed to make it in the final four as Gatlin snatched the gold,Jamaica's Michael Frater won silver in 10.05sec while the defending champion, Collins compensated with a bronze medal.
The fans were not the only disappointed ones.It was a big blow for Zakari who had hoped to win at least a bronze at this competition.
More so when he had finished second to the champion in the semi-final race which he recorded a time of 10.sec. Worse, he recorded a very poor time of 10.20 secs as against the winning time of 9.88secs, not a record though.
Zakari, is now hoping he can survive the heartbreak and anchor the 4 x 100m relay team to add to Ghana's medal collection as Margaret Simpson's bronze medal is the only one standing on the medals table.
Ghana currently are lying 15 out of 18, just behind Germany who have two bronze medals and before Portugal who also have a bronze.
USA currently lead the table with two gold medals after Day Two of the competition last Sunday. Only 18 countries have won any medal out of the 200 countries competing.
Another medal hopeful for Ghana, Ignatius Gaisah, the All Africa Games champion in long jump, will be in action when the long jump events assumes centre stage on Thursday.