February 9, 2018
|
Athletics
Swimming Coach Rick Powers Praises Ghanaian Coaches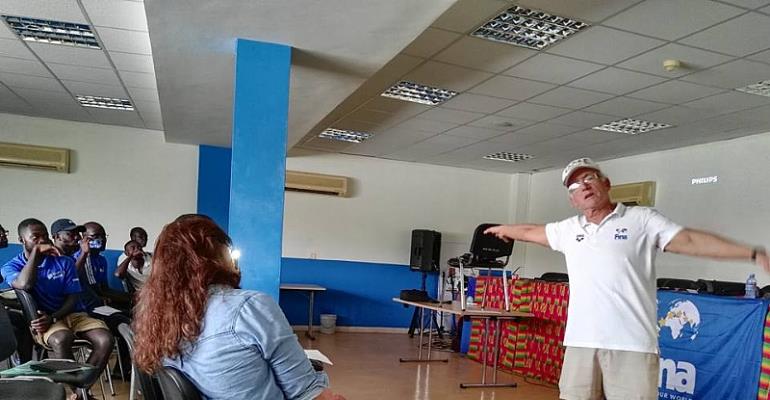 American swimming coach Rick Powers has praised the enthusiasm and motivation of the 60 coaches who participated in the five-day coaching course organized by the Ghana Swimming Association (GSA) with support from the International Aquatic Federation (FINA).
He told Yours Truly that the coaches showed much interest in the programme and contributed positively to the classes.
The experienced and widely travelled coach who has trained national teams of six countries said it is ideal that many countries are getting interested in swimming, and hopes that in the near future, Ghana would be producing champions.
Rick Powers taught his younger colleague about techniques such as swim sequence for butterfly, freestyle, backstroke and breaststroke.
President of the Ghana Swimming Association Theo Wilson Edzie said the training was sponsored by FINA and aimed at augmenting and structuring the capabilities of Ghanaian swimming coaches.
He said the FINA level one coaching clinic was an introduction to swimming theories and practicals. He added that the training was also aimed at giving the coaches the much needed professional training and give an opportunity to more coaches to improve.
He expressed that training the coaches or refreshing them is good for the sport and with the recent achievements and awareness in the media, they hope to get to their dreamland.
According to the President, swimming is part of the culture of Ghanaians and now people are moving from recreation swimming to competitive swimming and that is where companies must come on to support in identifying talents and grooming them for international competition.
The Ghana Swimming Association, with support from the International Aquatic Federation, organised the five-day coaching programme for it members at the Media Center of the Accra Sports Stadium.
Hon. Kojo Baah Agyeman, graced the closing ceremony and advised the participants not to rest, but train more kids and the youth for Ghana to have more swimming champions