Asante Kotoko GARCC Arrange Free Buses For Supporters To Kumasi For CARA Club Africa clash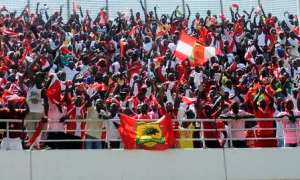 In a move to fill the Kumasi Baba Yara Sports Stadium to the brim on Sunday when Asante Kotoko square off against Congolese side CARA Club in the CAF Confederations Cup clash, the Greater Accra Regional Circles Council (GARCC) of the club led by NANA KWAME DANKWAH and its PATRONS have arranged for buses to convey their supporters in the Greater Accra region to and from the Garden City for free of charge.
The supporters who will be on the bus will also have free tickets to watch the game.
The Greater Accra supporters governing body are urging every interested fan, to go and rally behind their dear Club for a massive win on Sunday.
If interested, you can contact George Acheampong on 0242808064 and the deadline for registration is Thursday, February 8, 2018, at 6:00 GMT.
Let's seize this opportunity to wish our team Asante Kotoko well and encourage our Warriors to live by our motto: Wo Kum Apem a, Apem Beba to go all out to win massively here in Ghana to make the return league in Brazzaville a mere formality.
Go all out players
Go all out technical team
Go all out management
You have our fullest support.
FAAAAAAABULOUS!
.........Signed..........
Nii Darko Seth
Communications Director
( GARCC) 0208844410
Cc: Management
NCC
All media outlets
For more Ghana football news visit www.ghanasoccernet.com