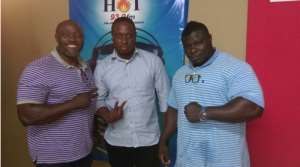 L-R-Victor Baiden, President of WABBA, Michael Ahorlu, Vice President Of WABBA And A Bodybuilder
THE WORLD Amateur Bodybuilding Association (WABBA), Ghana Chapter will from Friday, March 23, 2018 through to Sunday, March 25, 2018 organise Elite Bodybuilding Championship at Oyarifa, a suburb in Accra.
The three-day event will see both female and male bodybuilders from the various weight categories in the country compete for a spot in the national event set for later in the year.
The event will open with a seminar on weight training, judging and fitness awareness for body building athletes, gymnasium and climaxed with the elite bodybuilding championship.
The president of WABBA, Mr Victor Baiden in an interview in Accra yesterday that the competition is opened to all body builders in the country and it would serve as a qualification platform for the athletes to participate in the national competition later in the year.
"The head of judging at WABBA, MrPrevor Chang from the United Kingdom will be the one to take the potential judges in Ghana through tutorials of the game and would also score the athletes," he said.
He said registration form could be acquired at their offices or on www.facebook.com/wabbagh.
In a related development, Mr Michael Ahorlu who is the vice president of the association and also the head of branding and strategic marketing for WABBA, Ghana chapter said on Saturday, February 17, 2018 that the executives of the association would engage the body builders to know and understand their grievances in the sport.
He said the meeting would take place at Bond Gymnasium at Adentan Barrier in Accra where they would also reveal their progressive plans to the athletes who would be attending.
"We want to understand their grievances, listen to them and also tell them of our expectations and the plans we have for them.
"We want the body builders in Ghana to grow from one level to another internationally. They should not only compete in Ghana but transcend their art to other parts of the world," he said.
He added that the executives would soon organise a community audition in the Greater Accra, Ashanti, BrongAhafo and Western Regions in the coming months.
Mr. Ahorlu called on corporate bodies and individuals in the country to support WABBA Ghana Federation by donating monies to MTN mobile money number 0240760124.
He also said corporate bodies could advertise their products and services as well as individuals as part of efforts to support bodybuilding.