GHA President Calls For Renovation Of Hockey Pitch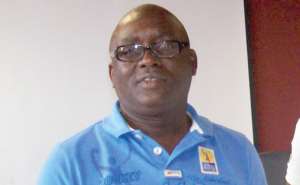 President of the Ghana Hockey Association (GHA), Richard Akpokavie has called on the government to renovate the artificial turf at the Theodosia Okoh hockey stadium.
He said the turf which was laid in 2009 when the stadium was built, has lived its lifespan of eight years and needed to be replaced by close of the year.
Mr Akpokavie made this call when he was delivering his closing remarks at the end of the hockey Africa Cup for Club Championship.
Sometime in 2013, KLOGG Ghana, the local representatives of the Edel Grass, manufacturers of the artificial turf threatened to drag the Ministry of Youth and Sports to court for a settlement of an outstanding debt of €73,000.
The said amount was the remaining debt the Ministry owed to the said company for the laying of the water-based artificial turf at the National Hockey Stadium in Accra.
Due to this, Ghana was supposed to have had a free maintenance on the pitch as a warranty by Edel Grass and that was not done because of the amount owed them.
The contractors have refused to carry out their mandated maintenance work on the pitch because of the outstanding bill and their five-year warranty stipulated in the contract could not be used.
With this current development, Ghana will have to pay the outstanding bill and also pay for any maintenance works to be done on the green turf of the stadium.
The stadium was built in 2009 when Ghana won the rights to host the African Hockey Federation (AfHF) African Cup for Nations (men and women) but it is currently under poor maintenance due to contractual issues with pitch layers, Edel Grass BV.
The development has irked Edel Grass BV, who under Article 4.4.2 of the contract signed with Government had a tax-free clause, with the amount withheld as tax deemed unknowingly done.
The amount has remained outstanding since 2009, influencing Edel Grass BV's decision to halt their maintenance and repair mandate until the said amount is paid.
Since 2011, the turf and facilities which need specialised annual repairs have been neglected due to the non-payment of the outstanding debt and the impasse with warranty period for repairs currently over.
The GHA President has therefore called on the Ministry of Youth and Sports to help renovate the pitch to enable Ghana host more international competitions.