Agbeko's fight off, returns next week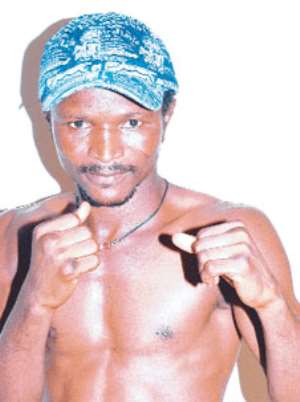 Accra, July 27, GNA - Joseph "the Fresh King" Agbeko Ghana's Commonwealth bantamweight boxing champion arrives next week after an unproductive stay in the UK.
Sounding very disappointed in a telephone interview with the GNA on Wednesday morning, the boxer said he was sad because his fight against Emil Stoica billed for Equinox, Leicester Square in London last Sunday was cancelled at the last minute.
He said he had prepared very well for the fight and intended to use it to show the world that "my time for a world title shot is now." Agbeko said he had decided to return to Ghana to concentrate on his preparations for a title defence against Noel Wilders in October.
"I want to come home and prepare adequately for a knockout victory against Wilders when I stake my title against him in October." He said he would accept a fight while in Ghana and asked local promoters to put him in their plans when they make matches between now and the end of September.
The Commonwealth champion appealed to the Ghana Boxing Authority (GBA) to continue assisting top Ghanaian boxers by influencing the world bodies to offer them title opportunities.