John Pantsil Credits Steve Komphela For Decision To Become A Coach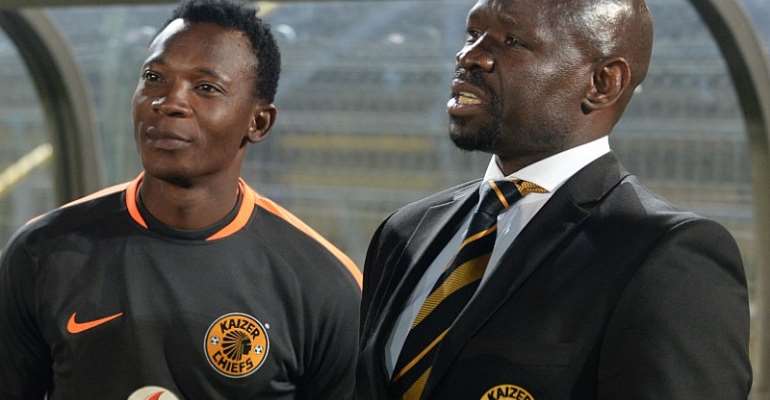 Former Ghana and Leicester City defender John Pantsil has credited Kaizer Chiefs Coach Steve Komphela for his decision to become a coach insisting 'Komphela is my Godfather in coaching.'
The attacking-minded right back who played under Steve Komphela at Maritzburg United as a player was named the assistant coach of the Glamour Boys in 2016 following his decision to hang his boots.
Pantsil believes that was a great opportunity that really shot him on the coaching seat properly.
'I played under Steve Komphela at Maritzburg United and he had a lot of confidence in me even when many people were saying I am aged.
'He is a great manager and respects everyone. He also loved Ghanaian players because he said we are disciplined,' Pantsil told GHANAsoccernet.com
'So when I went there (Maritzburg), I wanted to prove people wrong by changing a lot of perception especially the timings of training. I always made sure I get to the training grounds one and a half hours before training starts.'
The former West Ham defender narrated how Komphela began to see his interest in coaching and encouraged him to continue.
'I started training Anas Mohammed (a Ghanaian striker at Maritzburg) on goal scoring every day before the coach will come. So gradually all the other players joined us.
'That made Komphela's job easier in a way because as soon as he comes to training, he doesn't spend too much time in warming us.'
Pantsil's initiative paid off after Mariutzburg ended at 8th position on the table that year which cemented Komphela's love for him.
'That season, Maritzburg finished 8th on the table for the first time and the coach lauded me for that. We were getting on well before he left for Kaizer Chiefs.
'He advised me to even start coaching while playing for Maritzburg. So as soon as I announced my retirement, he asked me to join him at Kaizer Chiefs and that was a great starting point for me as a coach,' he added.
But few months after his appointment at Kaizer Chiefs as the assistant to Komphela, Pantsil never felt comfortable working as he claims the media didn't like him, forcing him to truncate what started like a romantic love affair with Kaizer Chiefs.