Am Ready To Fight Bastie -Richard Nii Lartey Harrison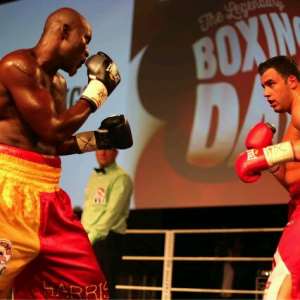 The Ghana heavyweight champion Richard Nii Lartey Harrison a.k.a Chisaano has stated his desire to take on Bastie Samir who stopped Braimah Kamoko (Bukom Banku) in round 7 late 2017.
In an interview on Best FM's morning sports in Bogoso via telephone 10th January 2018 recalled how he has challenged the then-unbeaten Ghanaian boxer Bukom Banku to a fight since 2014 but failed on several occasions.
" I challenged him in 2014 but he did everything possible to swerve me, and all I heard was his fight with Ayitey Powers in 2015.
Richard Lartey stated"I will still want to fight Bukom Banku so that I can win more stars and points but if Bastie makes my weight, I will battle it out with him.
Even some weeks before the Samir Bastie, I engaged Banku around town and he promised me I let him finish with Bastie but as it stands I doubt if he will have the balls to engage me as he will fear his record will be destroyed, Richard Lartey stated.
I am ready to fight any Boxer, Bastie is my brother, we have been together for some time but when he makes my weight am ready to fight him.
I will not reduce to his weight but if he makes my weight am ready for him.
The National heavyweight champion who reflected on his bout against Switzerland's Ergun Mersin in 2014 which he withdrew after round 5 due to injury.
Richard Lartey currently has ten (10) knockout outs of 12 wins in his 13 career fights appealed for support for Ghana Boxing and announced his preparation towards an African heavyweight bout this year. I am going all out with #TeamNoSleep