'Curse In Disguise "DEAL" For Asante Kotoko Fans,' Says Evangelist Stephen Oduro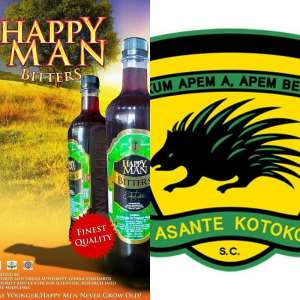 One Evangelist Stephen Oduro, an usher at Assemblies of God church has revealed he's had a vision that is going to bring about sorrows and tears to Asante Kotoko FC amid their deal with Happy Man Bitters.
The National Circle Council of Asante Kotoko have officially penned down a two-year sponsorship deal with Charger Ghana Limited, producers of Happy Man Bitters.
The contract which was sealed last year will see the Porcupine Warriors supporters' group receiving a whopping amount of GHȼ10,000 monthly from Charger Limited.
However, in an interview with Accra-based Happy FM, Evangelist Oduro indicated God has revealed to him that the partnership will bring bad omen to the club's supporters hence the contract should be abrogated.
'I had a vision about the deal between the fans of Asante Kotoko FC and Happy Man Bitters and that the vision is one that is going to cause them great grief."
'I saw some fans that consumed the product bleeding through both their nostrils and mouth in my vision and one fan died as a result of that," he added.
"I'm not saying this because of being a fan of their biggest rival Hearts of Oak, but rather saying this as a concerned man who cares for the well-being of their supporters."
'If anything possible they can annul deal to avoid any unwanted deaths that occur in the near future," Evangelist Oduro deduced.