Black Stars To Play Teranga Lions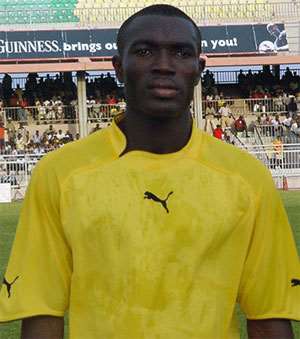 ...Boakye gets Black Stars call up The senior national team, the Black Stars, will play Senegal in an international friendly game next month.
The Teranga Lions are choice replacement for the Ivory Coast who pulled out of the planned game a few weeks ago.
The match will serve as a good preparatory exercise for the Black Stars ahead of September's world cup qualifier with Uganda.
A management member of the Ghana Football Association, Fred Pappoe, told Joy Sports, the federation found Senegal more credible challenge for the Stars.
The match is expected to be played in England with Fulham's Craven Cottage the most likely venue.
Ghana's prearranged international friendly against Elephants of Ivory Coast hit a snag after the host nation - France confirmed that they would be playing the Ivory Coast on August 17 instead of Senegal.
The French Football Federation had agreed that the Black Stars could play the Elephants in France on the same day. Boakye gets Black Stars call up Former Black Stars striker, Isaac Boakye, is set to make a return to the squad for Ghana's remaining matches in the African world cup qualifiers.
The All Sports newspaper reports that Black Stars coach Ratomir Dujkovic has invited the Armenia Bielefeld forward for Ghana's international friendly against Senegal next month.
Dujkovic intends to use the friendly game to assess the player before taking a firm decision on including him in his team for the 2006 world cup campaign.
Niggling injuries have denied Boakye an opportunity to play for the Black Stars since Serbian Dujkovic assumed the coaching reins.
The former Kotoko star is reportedly not too enthused about donning the national jersey.