Ghana Army wins Sports Festival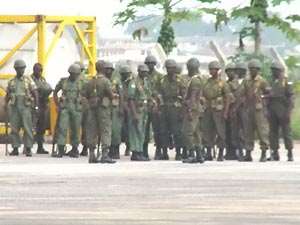 Accra, July 25, GNA - The Ghana Army bagged 23 medals to emerge as the over-all winners of this years' Armed Forces Inter Services Sports Festival held at El Wak Sports stadium in Accra.
The Ghana Army bagged in 14 gold, Seven silver and Two bronze medals from the 10 sporting disciplines of the Festival.
Ghana Navy placed second with 21 medals made up of seven gold, seven silver and seven bronze medals with the Ghana Air Force picking the third position despite winning the 22 medals.
The Air Force had their highest medal haul of 13 bronze medals, eight silver and one gold medal.
Individual outstanding performers of the Festival include Lance Corporal Moro Salifu of the Army who was adjudged the best sportsman whilst Private Torgbadza won the best sportswoman with Private Amedebede Rosina adjudged the most promising athletic and Navy hockey team emerging as the most promising team.
The Festival covered soccer, volleyball, tennis, basketball, handball, table tennis, hockey, tug-of war, athletics and cross country. Major General Joseph Boateng Danquah, the Chief of Defence Staff in his closing remarks commended the Army for being the over all champions and praised the female participants for their spirited performance during the competition.
He reiterated the military high command's renewed interest in instituting measures to ensure that all personnel attain and maintain levels of fitness that was commensurate with the physical and mental demands of the service personnel.
Major General Danquah said sports and physical training would continue to be indispensable activities on the calendar of the training of the Ghana Armed Forces.
He urged the Service Commanders to ensure that all personnel entrusted into their care are physically fit at all times through regular exercises.