Dogboe Appeals To Akufo-Addo For Financial Rescue Ahead Of Title Bout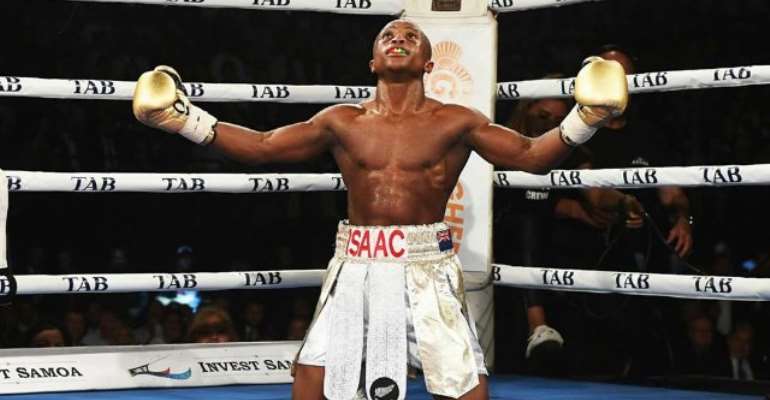 Ghana's world title contender Isaac Dogboe has sent an SOS message to President Akufo-Addo for financial bailout ahead of his destiny tied bout against Mexican Caesar Juarez.
Promoters of the bout headed by Dogboe's father Paul Dogboe, are already in debt as they are running on credit running into almost $150,000 for putting up the bout.
He made the appeal when the Ghana Boxing Authority led by president Peter Zwennes visited him at his gym on Thursday.
''I would also like to say thank you for your gifts and I will also want to tell the president of the GBA, lawyer Zwennes, that the team is under a lot of stress. So we want to ask you to lead us to the president to also help us in some of our bills because it's a huge task ahead of us.''
He [President Akufo-Addo] helped us in our last fight, we couldn't have done it without his help and we are back again.''
The undefeated featherweight will battle his Caeser Juarez for the WBO interim Super Bantamweight belt. The fight has been dubbed the "Battle of the Gold Coast" and it will take place at the Bukom Boxing Arena on Saturday, January 6.
Dogboe (17-0, 11KOs) will have the chance to become a world champion should he defeat Juarez (20-5, 18KOs) in a much-anticipated bout.
The 23-year-old, who returned to the country from his training base in the US to intensify preparations, has promised to stop Juarez, while his opponent is keen on taking his second chance at a world title shot, having lost to Nonito Donaire for the vacant WBO Super Bantamweight title in 2015.
The winner of the fight will slug it out with the title holder, Jessie Magdaleno when he recovers from a wrist injury next March.
Dogboe's camp has also assured Caesar Juarez of fair officiating.