Richardson For US Bodybuilding Championship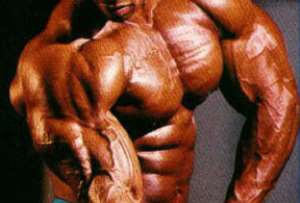 Mustapha Richardson, second runner-up at last year's Muscle Flavour Bodybuilding Competition, will participate in the OCB Yorton Cup Bodybuilding Championship which comes off on November 12 in Florida, USA.
Organisers of Competitive Bodybuilders,abbreviated OCB, selected Mustapha Richardson, ahead of Christopher Anto and Arnold Aryee who finished in first and second places respectively.
This was revealed to the Graphic Sports in an interview with Mr Abdul-Hayye Yartey, CEO of Flavour Productions, organisers of the Muscle Flavour Competition.
According to him, Mustapha impressed the OCB officials with his confidence, physique and good presentation when they accessed photographs and a video presentation of last December's show which was staged at the Globe Cinema in Accra .
According to Mr Yartey, the invitation for Mustapha to compete in the USA was the result of a professional criteria that will give him a professional status.
The bodybuilder has also received some publicity in the USA-based Fitness and Physique Magazine who are sponsors of this year's show.
This means bodybuilders at the next two editions of Muscle Flavour Championship will have a lot to look forward to since one competitor will be selected from each competition to participate in the OCB championship.
Mr Yartey also told the Graphic Sports that though the first three winners in last year's Muscle Flavour competition could not make the grade to compete in this year's Arnold Classic, Mustapha kept working hard to fulfil his outfit's mission which is to give Ghanaian bodybuilders international exposure.
'I'm still looking for something lucrative for Christopher Anto and Arnold Aryee', he said.
According to Mr Yartey, officials of the OCB were impressed with the level of competition and may increase the number of invitations to two after this year's OCB Yorton Cup Bodybuilding tournament.
Muscle Flavour will also make available funds and other needed logistics to ensure that Mustapha prepares adequately to represent Ghana in the USA.
Mr Yartey urged all bodybuilders to pick registration forms and be a part of the Muscle Flavour Night of Champions competition which comes off on December 16 at the Accra International Conference Centre.
'My outfit is committed to improving the sport in this country and I hope all bodybuilders will come on board', he added.
He also expressed gratitude to Patara's Fitness Health Centre in Accra, Mangoshago Design Agency, UK, and Fitness and Physique Magazine, USA.