Kotoko Coach Steve Polack Positive Of CAF Confederations Cup Campaign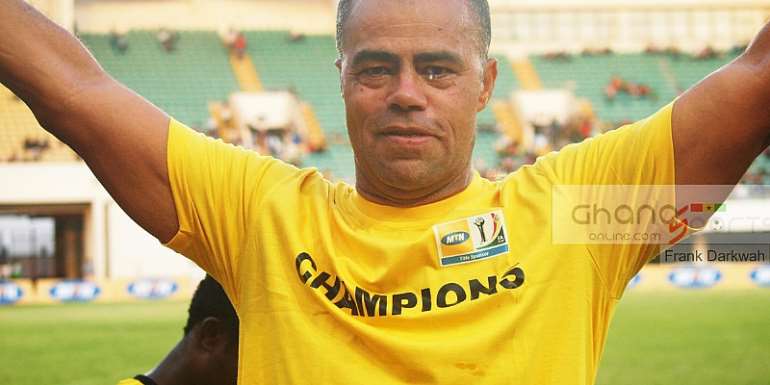 Thirty four years have passed since Kotoko last played CARA Club of Congo Brazzaville and with the two sides set to meet in the first preliminary stage of the CAF Confederations Cup in February 2018, an old rivalry is set to be rekindled and Coach Steven Polack has begun making moves to win the tie for Kotoko.
Many, if not all, of the current Kotoko players were not born when Kotoko eliminated the Congolese club, commonly referred to as CARA Brazzaville, on their way to winning the 1983 African Cup of Champions Clubs now known as CAF Champions League and only a few of the current members on the technical bench were alive when the Porcupines edged out the Congolese side from the same competition in their first ever meeting six years earlier.
Come February, 2018, Kotoko will attempt to stamp their authority on the Brazzaville-based club who will, on the other hand, have revenge on the cards when two clubs lock horns in the two-legged elimination encounter.
Discussing the fixture, the opponent, preparations and expectations ahead of the game in an extensive interview with asantekotokosc.com, Steven Polack said, "I don't know much about the team but I have done a bit of research and noticed that this will be the third time Kotoko will be playing them in CAF competitions. Kotoko won the first two games but that was many years ago. I know they have won their league nine times; that they came third last season; scored 60 plus goals and conceded 26 goals; and that tells you that they may be an attacking side and also defends quite well. I have enough time to gather reports and get DVDs and videos on their games. But the most important thing is that we have to look at the way we play and I will also like to learn a little more about how they play".
The first leg is slated for the Baba Yara Stadium on the weekend of 9th, 10th or 11th February while the return leg is set for 20th or 21st February at the Stade Alphonso Massemba Stadium in Brazzaville.
"I would have preferred to go away first", he continued when asked if the game schedule will have any impact on his cause. "That way you know how to go when you are home. But what we are going to do at home is to get a good result and then take it away and also get a good result. We will take it a game at a time-which is the first game at home. Hopefully by God's grace at the end of the 90 minutes on game day, we will have a good result to take to Congo".
Asked if he was optimistic of presenting a team ready enough for the competition, Polack said: "We are negotiating with a few players and some will take a longer time than others. But sometimes, you can't always get the players you want. That is the way it is in football and you just have to move on. We are talking to people and in the next few days we will get players and by the end of the week we will know about the players who are coming".
"Only God will know (if we can qualify for the group stage)-I can't promise that but can promise that every game we play, we will give 120 per cent to try to get to the group stage. If the players can give the same fighting spirit and attitude they gave in the FA Cup final-then we will go far in the competition".
Qualification at this stage of the Confederations Cup is down to superior goal aggregate and with Kotoko scoring a paltry 23 goals and conceding 22 in the 2016/2017 national league, there is cause for concern. But Steven Polack is confident the scoring rate will improve.
"I don't live on yesterday. What is done is done and I can't do anything about it. The only thing I can do is to go forward and make sure that we are lethal in front of goal".