Ghana World Cup Collapse ''Huge Disappointment'' – Kwesi Nyantakyi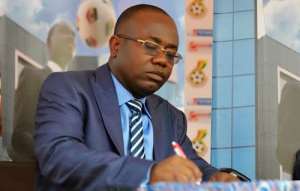 President of the Ghana Football Association, Kwesi Nyantakyi, has described the country's inability to qualify for the 2018 FIFA World Cup "a huge disappointment," and said the team must ''restrategize'' to avoid a similar outcome in 2020.
After making a huge impact in 2006 and 2010 but failed to uplift their performance in the 2014 World Cup that was held in Brazil, the country was hoping to qualify for the 2018 FIFA World Cup but the dream of the country couldn't materialize.
The Black Stars lost the only slot available in Group E to seven time African champions, Egypt.
The nation's inability to make the Mundial ends a run of three straight tournaments and the CAF 1st vice president has revealed his displeasure at the latest development.
"Going to the World Cup has become part and parcel of our lives and so, for me, it is an anticlimax.
"It is a big disappointment to me as a person and for me as the head of the football association, I think that it is not encouraging at all that we will not be able to respond to the roll call of the world's biggest footballing nations in Russia.
"But we cannot do anything about it now. We just have to put the past behind us and go back to the drawing board. We have to restrategize and look forward to 2022 and ensure that we do not miss the boat the next time." he added.
Ghana had a poor qualifying campaign recording only own win (a 5-1 win away to Congo Brazzaville), four draws, and a loss.
Samuel Ekow Amoasi Appiah
Sports Journalist