Kwesé TV Strikes Partnership With MTN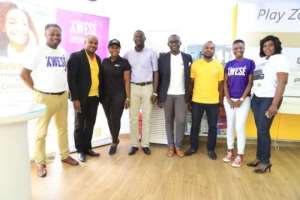 Econet Media's Kwesé TV has struck a strategic partnership agreement with MTN Ghana to enable customers to watch TV on their phones.
In a release copied to the GNA Sports, the new partnership will enable customers to have easy access to premium TV contents using their mobile phones and through the numerous MTN distribution outlets across Ghana.
With the new partnership, customers can use their smartphones to watch TV on the go through the Kwesé TV App (KTV) using MTN 3G or LTE.
The partnership will also enable easy access for subscribers to Kwesé TV Services for onboarding, subscription payment and warranty claim and after-sales support.
Feedback from the market shows a favourable appreciation and attraction of the Kwesé TV strategic partnership, offer and content.
Kwesé TV launched its services in Ghana in February 2017 and has made significant strides in the Ghanaian market since then.
Kwesé TV has acquired the rights to major sporting events like the FIFA 2018 World Cup and the IAAF World Championships, to increase the richness of its content.