Emmanuel Yeboah preps for Fitness Triathlon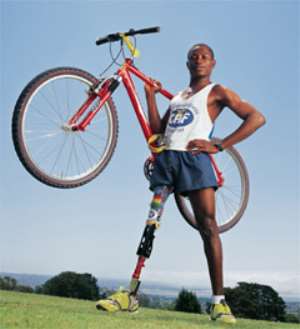 MINNEAPOLIS - Born with a severely deformed leg in a country where the handicapped are considered a curse, Emmanuel Ofosu Yeboah was determined to show the people of Ghana that those with disabilities are capable of great things.
So he jumped on a bicycle and started an improbable, Forrest Gump-like journey across his nation to prove just that.
"I see how people are treated in Ghana, and that's why I am giving all my effort to this," said the 28-year-old man, who was born without a shin bone. "I don't want to give up. I don't want to give up."
Yeboah's goal has now gone global.
He was in California this week to receive one of cable network ESPN's ESPY awards, an honor given to courageous athletes that's named after the late tennis star Arthur Ashe. Then he traveled to Minnesota to prepare for Saturday's Life Time Fitness Triathlon - where he will be responsible for the 25-mile bike portion of the race for a relay team participating in the event.
"It's been very good for me to come here," Yeboah said. "The people in Ghana, they can see how famous I am in the States. So many people there are very appreciative of what I am doing."
The details of this story, revealed through a soon-to-be-released documentary film about his life, "Emmanuel's Gift," and a recent phone interview with Yeboah, are nothing short of fascinating.
Ghana, a nation of about 20 million people on the continent's west coast, is considered one of Africa's most enlightened countries as the first to establish its independence and a democratic government. But disabled people account for approximately 10 percent of the population, and they are generally shunned from society and resigned to a life of begging on the streets.
Yeboah was born without the lower part of his right leg, with a normal-sized foot essentially dangling from his thigh instead of a knee.
Because of the disability, his mother, Comfort, was advised to either kill him or leave him in the forest to die. Because of the disability, his father, Dickson, abandoned the family. But Yeboah refused to accept such a cruel fate.
"His mission is to change perceptions. He's the epitome of doing what you can with limited resources," said Bob Babbit, a co-founder of the California-based Challenged Athletes Foundation, which provided Yeboah with the bicycle that jump-started his quest three years ago.
Yeboah was making about $2 per day shining shoes, trying to provide a living for him and his family members, when he learned about CAF's grant program through a missionary in town. Praying to God while he wrote his first letter to America, Yeboah asked for a bike he could ride across the country - more than 370 miles to disprove the stereotype about the disabled.
After getting the hang of this awkward activity - basically pedaling with his healthy leg while his right foot rested on the frame - Yeboah secured enough sponsors to begin his ride. Skepticism hounded him, but the publicity picked up as people began to realize he was serious - and successful. Wearing a red, yellow and blue striped shirt, Yeboah rolled through village after village as wide-eyed children chased behind in awe and celebration.
The foundation later invited him to the San Diego area for its annual 56-mile bike ride in November 2002, his first trip outside of Ghana. Soon after, in April 2003, he was fitted with a prosthetic right leg. The next year, he shaved three hours off his time in the same event.
These accomplishments have been big enough in their own right, but Yeboah is not keen on stopping. He has people to take care of back home. One project on the horizon is the organization of a wheelchair basketball team that will represent Ghana at the 2008 Paralympic Games in Beijing.
"I believe that if it's not coming from your heart, you give up," Yeboah said. "But this is coming from your heart. You never give up."
Another part of his mission is to secure governmental regulations that will protect the rights of the disabled, something that's commonplace in the United States but unprecedented in Ghana.
"I believe that I'm not going to end it here," Yeboah said. "I'm going to continue until the time that I will die."