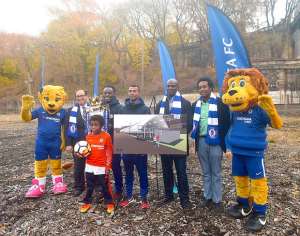 As part of Chelsea legends United States tour, Ghana superstar Micheal Essien and his former teammate Ashley Cole visited students at Frederick Douglass Academy in Harlem, and later that afternoon met with members of the FC Harlem Lions at Riverbank State Park, where the soccer program engaged in a ceremony dedicating the first covered outdoor soccer field in Manhattan.
The multimillion-dollar project, located below Riverbank State Park, is scheduled to have its opening in late summer or early fall of next year. It will be a welcomed addition to the expansive and well-utilized facilities at the Harlem Park.
Among those on hand for the dedication were a number of local political officials and representatives from Riverbank State Park, as well as Irv Smalls, executive director of the FC Harlem Lions.
Essien was a member of Chelsea from 2005 to 2014. Now playing professionally for the Indonesian club Persib Bandung, he represented Ghana in 2006, 2010 and 2014 World Cups.
Toting the Premier League Trophy, Cole and Essien took part in an exclusive viewing party of the Liverpool versus Chelsea game this past weekend and met with fans at the Fulton Market Building at the South Street Seaport.