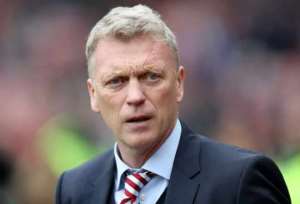 New West Ham United manager David Moyes pledged to deliver attractive, disciplined football as he plots their escape from the relegation zone in the Premier League.
The former Manchester United and Everton manager was officially installed at West Ham on Tuesday morning, less than 24 hours after Slaven Bilic was sacked.
"I think we've got a good squad," Moyes told West Ham's website.
"At the moment they should be in a better position than they are, and I believe they will become the end of the season. I've got no doubts about that, but ultimately we have to show it on the pitch."
West Ham fans traditionally like to see their players produce a stylish brand of football.
But with just nine points from their first 11 games of the league season, results are the most important thing.
"I hope West Ham fans are going to see a team that is organised and disciplined," Moyes said.
"But I have always only ever wanted to be involved with attacking, entertaining football. And I feel really confident with the group of players we have got here that we can provide that."
Moyes enjoyed a successful 11-year reign as Everton manager, a spell that earned him the job as Alex Ferguson's replacement at Manchester United.
But the 54-year-old Scot was sacked after less than a season in charge.
He had brief spells at Real Sociedad and Sunderland and media reports said he was West Ham's first choice to replace Bilic.
Joint-Chairman David Sullivan said Moyes was the right man for the job.
"We need somebody with experience, knowledge of the Premier League and the players in it, and we believe David is the right man to turn things around and get the best out of the players at the club," he told West Ham's website.
"He is highly regarded and respected within the game, and will bring fresh ideas, organisation and enthusiasm.
'He proved with Everton that he has great qualities and we feel that West Ham United is a club that will give David the platform to display those qualities again."
Moyes' first match in charge will come after the international break, a trip to Watford in the Premier League on November 19.