'I'm Working Hard To Be The Best Footballer In The World' - Princella Adubea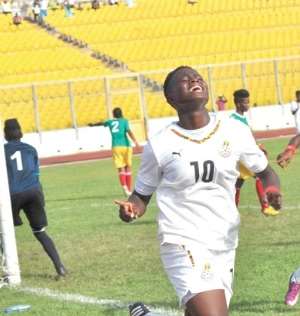 Ampem Darkoa Ladies and Ghana's Black Princesses striker Princella Adubea has set her sight on becoming the best female footballer in the world.
Adubea, who played an influential role in defending the National Women's League with her side and was named the best player of the season, said it is her dream to be the best for Ghana and rule the world someday.
Ampem Darkoaa Ladies beat Lady Strikers 1-0 to successfully defend their National Women's League, with Adubea scoring the only goal of the match.
She told the GNA Sports that she 'Feels great to defend the National Women's League title. I aspire to be the best player in Africa and the world.
'When it comes to motivating myself, it is not about money but I encourage myself to be the best at what I do and when my fans are happy, it's a great feeling for me. This award is a massive honour and a motivation to reach higher heights.'
Adubea, who was named the Sports Writers Association of Ghana (SWAG) Female footballer for 2017, called on Ghanaians to support the U-20 side as they embarked on their campaign to qualify for the 2018 FIFA World Cup in France.
The striker played 11 matches for her club and scored 19 goals with one assist.