Harry Kane Wins Player Of The Month In September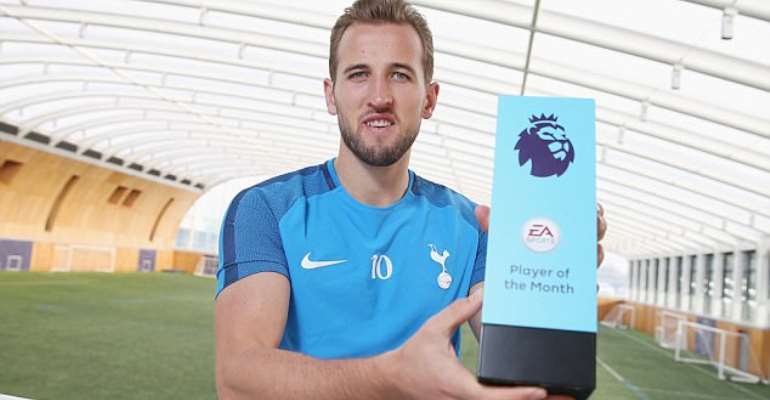 Tottenham Hotspur striker Harry Kane has been named as the Premier League player of the month following a stunning September.
Kane scored six goals in four PL appearances last month, as well as netting five times in two Champions League outings.
The Spurs vice-captain has now won the award five times, following former successes in January 2015, February 2015, March 2016 and February 2017.
Only Liverpool legend Steven Gerrard, with six, has won the accolade on more occasions.
'It feels good' Kane told EASPORTS.com. 'It's a great honor every time to win this award.
'It's great, hopefully, I can continue it and get a few more for the rest of the season.'
KANE IN SEPTEMBER
Malta 0-4 England - 2 goals
England 2-1 Slovakia - 0 goals
Everton 0-3 Tottenham - 2 goals
Tottenham 3-1 Dortmund - 2 goals
Tottenham 0-0 Swansea - 0 goals
West Ham 2-3 Tottenham - 2 goals
Apoel Nicosia 0-3 Tottenham - 3 goals
Huddersfield 0-4 Tottenham - 2 goals
When asked how he felt about joining the likes of Gerrard and Robin van Persie in winning the award for the fifth time, he added: 'It makes me feel proud.
'It's not something I think about too much but whenever I do win this award, it's a great honor and I can only thank my teammates, the manager and the staff that help me achieve it.
'I'm just putting the balls in the back of the net, but they are the ones that are helping me do it.'
After failing to score a single goal in August, Kane exploded into form in September.
He kicked off the month by bagging a brace for England in Malta, before registering his first two Spurs strikes of the season in a 3-0 win at Everton.
Kane also netted doubles in away victories at West Ham and Huddersfield in the Premier League.
He took the Champions League by storm too, scoring five times in two matches, including a perfect hat-trick away to Apoel Nicosia.
Asked if September 2017 has been the best month of his career, Kane replied: 'I would say so when you look at the goals I've scored and a number of games.
'I feel really confident, I feel good.
'I feel in good shape so I just can't wait for the next games to come. That's what I'm trying to do, just stay fit and healthy, and hopefully, I'll continue to score.'
Kane won the player of the month award after receiving the most combined votes from a panel of experts, Premier League captains and fans.
Manchester City duo Sergio Aguero and Kevin De Bruyne had also been nominated, along with Brighton's Pascal Gross, Newcastle defender Jamaal Lascelles, Manchester United striker Romelu Lukaku and Chelsea ace Alvaro Morata.
Kane will be hoping for a similarly prolific October.
Spurs play Bournemouth, Liverpool and Manchester United in the Premier League, as well as Real Madrid and West Ham in other competitions.
He has already scored twice for England this month, having stuck winners in 1-0 successes against Slovenia and Lithuania.
Kane was speaking to EA SPORTS at the presentation of the player of the month award. To read the full interview, go to EASPORTS.com.