Kwesi Appiah Happy With Competition For Places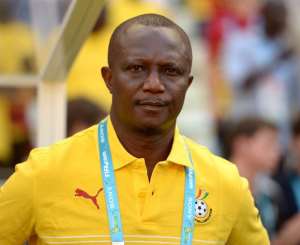 Black Stars coach Kwesi Appiah is delighted with the competition for places in the team and says he's hoping for more headaches to select players.
The new look Black Stars continued their fine form with an emphatic 3-0 victory over 2018 FIFA World Cup-bound Saudi Arabia in Jeddah on Tuesday.
Related Article: Video: Ghana beat Saudi Arabia 3-0 in friendly
Kwesi Appiah made five changes to the team that drew 1-1 with Uganda in penultimate World Cup qualifier, handing debuts to goalkeeper Lawrence Ati-Zigi, Abass Mohammed, WAFU champion Isaac Twum, striker John Antwi, and defender Kassim Nuhu Adams.
And it was one of the debutants, Adams, who opened the scoring for Ghana before an own goal and in-form Atletico Madrid in-form Thomas Partey sealed the win.
"It's always good as a coach to have sleepless nights in the sense that once you have variety of players to pick from, it shows how strong the team will be and if you have a strong team even though you'll have a headache with selection but at the end of it once there is victory your headache will come down," says Appiah after the game.
"So, in a way I think is a national team because if it's a club you are only limited to few players you've registered but this is a national team and it's important we stretch our hands. At the end of it all, it is the nation that will benefit in the long term. When you start any project, automatically there will be lapses and some few issues but I believe that's how you become strong and that's how you develop and get a better team."