Egypt's 44-Year-Old Goalie El-Hadary Eyes 2022 World Cup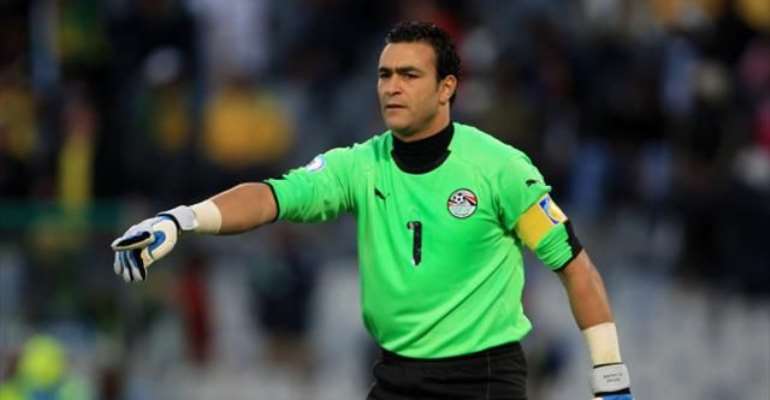 After his longtime dream of reaching the World Cup became a reality on Sunday night, Egypt's veteran goalkeeper, Essam El-Hadary, joked that his goal was actually the 2022 event, not the coming 2018 one for which he and his team had just qualified in their victory over Congo.
Sunday's match sends Egypt to their first World Cup finals since 1990. The 2-1 home win was a dramatic and nerve-jangling clash with a superb appearance from the Pharaohs' evergreen goalkeeper.
When asked about his pre-retirement goals in previous interviews, El-Hadary expressed his dream to reach the World Cup, as he had earned numerous trophies over his career but had never yet had the chance to play in the international tournament.
When the 44-year-old goalkeeper asked Sunday night by a television reporter about his feelings regarding the 2018 qualification, he laughed, saying, "I didn't mean my career target is reaching the 2018 World Cup - I am eyeing the 2022 championship!"
El-Hadary, who currently plays for Saudi Arabia's Al-Taawoun, won the African Cup of Nations title four times (1998, 2006, 2008, 2010), and also earned numerous trophies playing with Egyptian giants Ahly.
"We are now celebrating, we have to continue celebrating until arriving in Russia," El-Hadary told a television programme after the 2-1 win over Congo on Sunday night.
"We will start preparing for the 2018 World Cup in Russia in order to put on a superb performance there."
Discussing the qualifying game itself, he went on, "I was confident of Egypt's players' ability to win the game after Congo scored the equalizer."
"All the squad deserves reaching the World Cup as they did a superb performance during the game," the veteran goalkeeper said.
The Pharaohs now possess 12 points, gaining an unassailable four-point lead over second-placed Uganda with only one match remaining.