2018 WC Qualifier: Uganda 0-0 Ghana - The Day Africa Football Begged For Fairness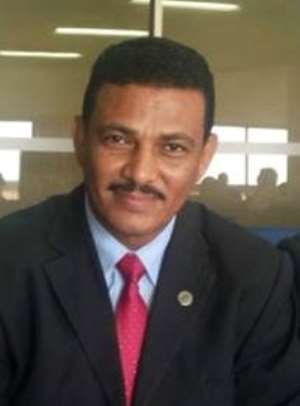 Africa football has always been confronted with bad officiating during major games and Ghanaian referee Joseph Lamptey is currently a life ban for a controversial decision during a 2018 World Cup Qualifier between South Africa and Senegal. I also remember Benin referee Coffi Codjia also suffering a suspension in 2010 after the AFCON in Angola. Yet, many others like Fadil Mohammed are not deterred.
And I think the next to suffer such a feet is Sudanese referee Fadil Mohammed for denying Ghana a legitimate goal against Uganda in the 2018 World Cup Qualifier in Kampala on Saturday, 7th October 2018.
Denying Ghana a penalty from a rebound must not only attract a severe punishment from CAF but it's also an utter definition of how poor the African game is.
Fadil's decision not to give Ghana that legitimate goal is incomprehensible and only demonstrates how the 'home team must win' attitude is destroying the game.
Frank Acheampong was strongly pushed by Derick Nsibambi like an articulator truck over a taxi on the 6th minute for what many Ugandans even screamed was a penalty from Ghana but Fadil waves play on and even verbally cautioned Acheampong for diving.
As if that was not enough, Fadil disallows a 94th minute goal from Raphael Dwamena in a controversial style, turning the end of a beautiful game into a chaotic finish.
Partey unleashes a thunderous strike which goes directly into the chest of Onyango, Dwamena scores from a rebound and referee judges that to be a ln offside. Hae the rules have been changed by FIFA and when was that?
Even the over-30 Ugandan journalists who had surrounded me at the Nelson Mandela National Stadium in Namboole, Kampala, were at a loss as to why referee Fadil Mohammed refused to give Ghana that goal.
Must the African game always be thrown in massive controversy? Can't a tea win away from home? What are signals E sending to ourselves when we cheat ourselves because of the 'home team must win' mentality?
I'm overly disappointed in the coach because the efforts of the Ghanaian team deserved the win over Uganda.
This is how we are killing the game in Africa and this is how our game keeps weeping for justice and fairness.