Eric Ayiah Named In Guardian's 60 Best Young Talents In World Football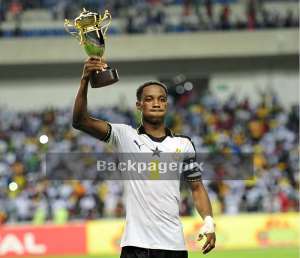 Ghana U17 captain Eric Ayiah has been named as one of the 60 best young talents in world football by the Guardian Newspaper.
He is in the same league as Brazilian Vinicius Júnior was sold to Real Madrid for €45m - the second most expensive Brazilian transfer of all-time, behind Neymar.
Mali's Hadji Dramé, who plays for Yeelen Olympique de Bamako, is another African player in the list.
The description on Eyiah read: ''After dominating the competition in the early 1990s, Ghana have qualified for the under-17 World Cup for the first time since 2007 and that is down in no small part to their captain.
''Ayiah got four goals to finish as joint top scorer in the African championship that determined which countries would be in India this month, with Porto among the sides linked with him.
''A move to Europe has failed to materialize but that is likely to change if the forward who came through the Charity Stars youth set-up and is blessed with strength and lightning pace can find his goalscoring boots once more.
''Asked why he favors the No6 shirt for club and country, Ayiah explained: "I'm a striker but I love the No6 jersey because I was born on March 6, 2000, and it is also the Independence Day of Ghana.''