WISA NGO Treasurer Calls For Investment In Sports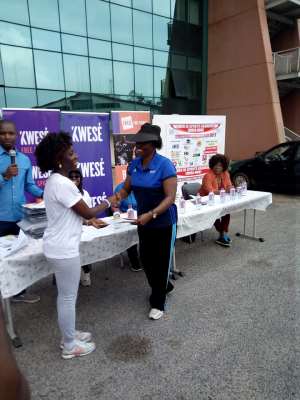 Helga Gokah, Treasurer of the Women In Sports Association (WISA), a non-governmental organization that recently honored distinguished past and current sportswomen has added to the call for more investments into sports by corporate Ghana.
In an interview with Yours Truly, she said as Treasurer, she is supposed to keep all monies or send them to the banks, but WISA NGO has no funds and called on sponsors, most of whom could not honor their commitment, but the event was successful.
She said WISA NGO is out to organize and promote sports for people and institutions to be healthy and fresh. "We are not a threat to any organization like our President said, we should not be seen as coming to compete with any organization in honoring women who excel in sports," she said.
Helga, a sports journalist at Uniq Fm of GBC fame said sports is life, that is why corporate Ghana must support and invest in WISA NGO.
She hinted that there are other fundraising activities and sporting programmes coming up which they are going to support.
"Very soon, we are going to engage students, civil servants, public servants, porters, nurses, journalists, bankers, market women, fishmongers, doctors, lawyers, judges and politicians to be involved in our activities. We have come to contribute to making Ghanaians live healthy lifestyle" she expressed.
Also a member of SWAG, she noted that WISA is going to bring female sports journalists together as the next African Women's Football Championship is coming to Ghana next year, and will offer opportunities for many people as well as boost tourism.
She thanked Madam Gloria Commodore, the Executive Director of WISA NGO who has been an inspiration and Rosalind Amoh, who has been a mentor motivating her to reach far in the exciting business of sports journalism.
She urged members to stand united and serve mother Ghana with the best of their abilities in whatever office, field, pitch, track or court they find themselves.
The WISA NGO executive is made up of Rosemary Gaisie – President, Nana Akua Amankwa - Vice President, Matilda Dzimedo -Secretary, Helga Gokah – Treasurer, Rosalind Amoh, Exe Member, Betty Anim Addo – Exe Member, Mavis Amanor – Exe Member, Eunice Serwa – Founder/Technical Director, Alice Quainoo – Executive Director, Gloria Commodore – Exe Director, Jojo Ephson – Researcher, Sammy Heywood Okine – Special Advisor/Online Director.
Sammy Heywood Okine
Sports Journalist