Bafana-Stars: Our Man of the Match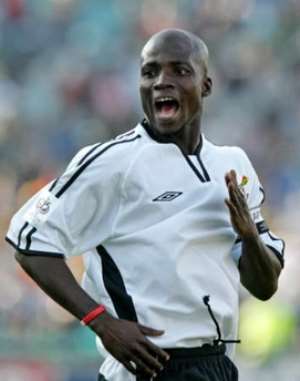 It was not surprising that SABC1 awarded Lerato Chabangu the man-of-the-match accolade.
After all, they are renowned for promoting mediocrity at YaMampela, aren't they?
If ever there was a player who shone at the FNB Stadium on Saturday it was Ghana captain Stephen Appiah.
Just as he did in Kumasi in the first leg, the Juventus player played the catalyst role for the Black Stars' victory.
His ability to create attacking moves from defensive situations as well as his excellent crosses from the wing and dead ball situations caused lots of trouble for Bafana.
He is the man who initiated the killer goal for Ghana when a draw appeared the inevitable result. It was pure class the way he ran away from Aaron Mokoena, beating an ill-fated offside trap to latch on to a through ball on the wing.
Using his pace to outrun the chasers, he then delivered a sweet, low cross for Matthew Amoah to slot home.
And then there were those moments when he lifted his players' spirits with a pep talk or a pat on the back. A true captain's performance and worthy of our man-of-the-match award. -