13 September 2017
|
Football News
We Will Fly Supporters To India –Sports Minister
Samuel Ekow Amoasi Appiah / Modern Ghana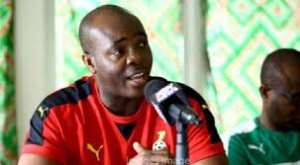 Youth and Sports Minister, Isaac Kwame Asiamah has pledge to fly Ghanaian football supporters to India ahead of the 2017 FIFA U-29 World Cup.
The indication by the Member of Parliament for the people of Atwima Mponua Nwabiegya has being slammed by many football journalists in the country.
It will be recalled that the Dzamefe Commission commissioned by the for president John Dramani Mahama after the shambolic performance at the 2014 FIFA World Cup recommended that government should refrain from flying supporters to major tournament.
However, speaking during his visit to the Black Starlets, Asiamah insists government is going to seek for corporate sponsorship to fly supporters to India.
"If there should be any organization for supporters which may happen this time round for them to go and cheer them up in India, we will ask them to come together under one elephant. Yes they should come together.
"When you come together then we will have the courage to support but not these splinter groups. We want them to be under one body, united Ghana supporters, where they are supporting one team and so far they are almost there.
"The discussions are on-going. We want them to come under one body so they are making progress. If they are able to achieve that one, then government will be courageous enough to spend our own money to support them." he stated.