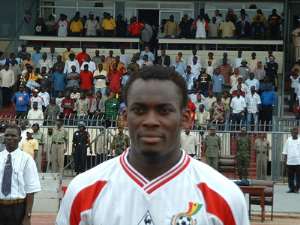 When Ghana's enlarged squad of 25 players arrive in south africa around midnight on thursday, the attention will be drawn like a magnet on a striking, 1.8m 22 year-old whose good look suggest he will not be out of place in a Hollyhood movie.
lnstead the role earmarked for fc lyon's french "player of the year', Micheal Essien is to pound and purverise the Bafana midfield at FNB Stadium on saturday and spearhead Ghana's attempt to nuetralise south africa present advantage of qualifying for next year's world cup in Germany from the africa group 2 segment.
"Essien is the dangerman whom we will have to give a lot of attention throughout the 90 minutes" says Bafana coach Stuart Baxter.
"We have heard reports that he is carrying an injury, but am quite sure he will be in the starting line-up and after dazzling season he has enjoyed in europian champions league and french championship during the past season he is going to take some watching".
Baxter rates Essien along with captain Stephen Appiah, "one of the true world class players in the Ghana squad" and quite capable of causing havoc.
Appiah ,it could be claimed is the other half of Ghana's "terrible twins' as far as Bafana are concerned. The juventus-based goal manipulator scored twice when Black Stars pummelled Bayana while scoring twice in an earlier 3-0 world cup qualifying win
"lf we contain Essien and Appiah,"suggested Baxter,"we should be half way to securing victory.But it will be a lot easier said than done".