George Daniels Vindicated from his court Appeal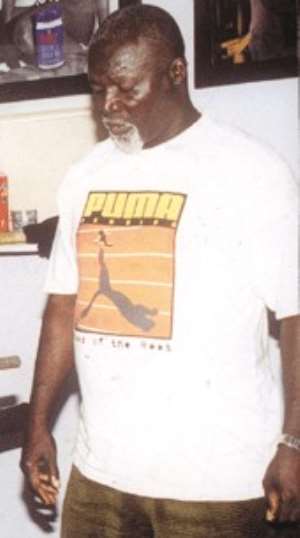 IN THE SUPERIOR COURT OF JUDICATURE THE HIGH COURT OF JUSTICE WENCHI,BRONG AHAFO REGION
GEORGE DANIELS "APPELLANT VRS THE REPUBLIC RESPONDENT APPEAL AGAINST THE SENTENCE OF HIS HONOUR G.H.K. DEBRAH ESQ.CIRCUIT JUDGE SITTING AT CIRCUIT COURT,SUNYANI DATED 11TH MAY,2004
I DO HEREBY CERTIFY that the Dedication in the above named was as follows:-
Having listened to learned counsel's submission,l am entirely satisfied that the conviction of the appellant (George Daniels) on the three charges for which he was convicted was wrong in law. Proof of his offences did not attain that degree of certainty needed in such cases.The Principal State Attorney says he can not defend such conviction.l there fore allow the appeal and acquit and discharge the appellant(George Daniels).
Given under my hand and the seal of the High Court at Wenchi this 17 day of march,2005.
SNR.HIGH COURT REGISTRAR (EMMANUEL AGYEN )
Mr George Daniels,is a retired National athlete of lnternational repute.When he retired from active atletics,he was employed as a coach by the Ghana Sports Council and was posted to Sunyani to be in charge of the Brong Ahafo Region.He was arrested on the 19th day of November 2002 and charged with three counts of offences namely (1)lndecent Assault ,Defilement and incest.
According to the facts given by the the prosecuter ,Mr George Daniels saw the victim roaming about in the streets of Sunyani and because he knows her father back in Cape Coast,he confronted he to know what she was doing in Sunyani.The victim told him that she was living with a certain lady whose Dough-nuts she sold for a living.ln answer to Mr Daniels further probing,it came to light that she had dropped out of school for sometime so Mr Daniels took the victim to see the Dough-nuts seller with whom she was living and told her that he would take responsibility for the girl's education if the woman would allow her to continue to live with her to which suggestion the woman reluctantly agreed.According to the victim mr Daniels started assaulting her sexually from February 2002 by inserting his finger into her vagina and always wanted to have sex with her.These sexual assault continueed until September of the same year when finally Mr Daniels crossed the po! int of no return by having sexual intercourse with her.She eventually became pregnant and asked to mention who was responsible for the pregnancy,she mentioned Mr George Daniels name.This led to his arrest and subsequent prosecution.The facts show that even though mr Daniels allegedly warned her not to tell anybody about what he was doing to her,the victim actually informed her mother and one other withness but none of them neither confronted him nor reported him to the police.
At the end of his trial,he was convicted and sentenced to 7 years imprisonment with hard labour.ln addition to the prison sentence,the trial judge orderd that mr Daniels be paid to the registry of the court and same kept for three years after which period of time one half should be paid to the victim or her parents for the benefit of the child born out of the relationship and the remaining one and half to be paid to any other legitimate child or children of mr Daniels.But this was to be done only if mr Daniels failed to filed an appeal or filed an appeal but lost.
But due to appeal made by mr Daniels and the court's investigations in to the matter,Mr George Daniels declared innocent and was acquited.
This is for all the media houses to help save the man from disgrace because he is innocent.