IAAF withholds Ghana's annual remittance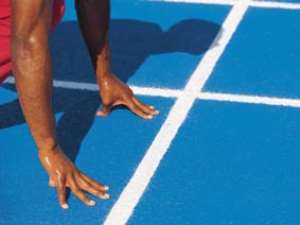 Accra, June 14, GNA - The International Amateur Athletics Association (IAAF) is reported to have withheld the annual remittance of 15,000 dollars entitled to the Ghana Athletics Association (GAA) as a result of an alleged case of governmental interference in the affairs of the local body.
Information gathered by the GNA Sports indicates that the international body after series of letters from the GAA, since the beginning of the year, has failed to give Ghana her money with the reason that the former Chairman of the Association, Mr George Lutterodt was wrongfully removed from office. The National Sports Council (NSC) in May reconstituted the Management Board of the various associations in accordance with Supreme Military Council (SMC) Decree 54. According to the information, the former Chairman of the GAA was alleged to have written to the international body to complain about what he described as his wrongful removal from office.
Mr Ekow Wilson, General Secretary of the GAA confirmed to the GNA Sports that the Association has not received the money despite series of letters written to them. He said he was only made aware of the reasons behind the delay of the release of the money at the last Africa Athletics Federation Congress held in Bujumbura, Rwanda. According to Mr Wilson, Ghana, together with Sierra Leone and Liberia were mentioned as countries having internal problems and did not merit the annual remittances.
Mr Wilson confirmed to the GNA Sports that the name of the former Chairman was mentioned by officials of IAAF as the writer of the alleged letter to the International Athletics body. He said the IAAF informed the local Association that the wrongful removal of the former Chairman amounts to government's interference, hence Ghana did not qualify for the amount.
The General Secretary said that the issue will be the dominant agenda when members of the local association meet with officials of the IAAF, who are presently in the country to attend the 11th Association of National Olympic Committees of Africa (ANOCA) to be hosted by Ghana in Accra.
Mr Albert Agbozo, Acting Chairman of the NSC denied that the former Chairman was wrongfully removed from office, but said that his removal was in accordance with the SMC Decree. According to Mr Agbozo, the Decree states that after every four years, (after every Olympic Games) the Council should review the performance of the various associations and based on that, some of them are maintained whilst others may be removed. Mr Agbozo added that the removal of Mr Lutterodt did not amount to any governmental interference.