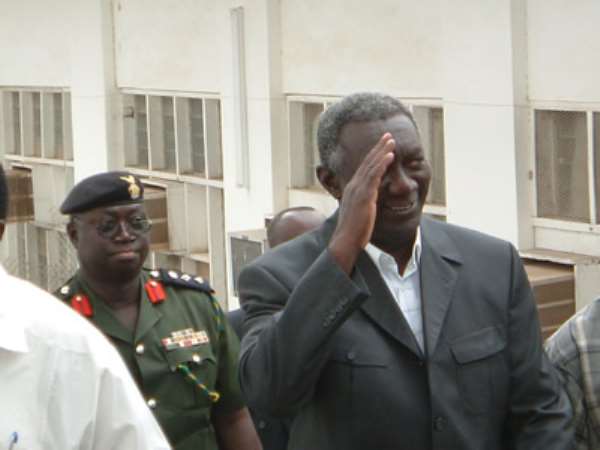 Accra, 8 June 2005 (Heritage) -- Ms. Gizelle Yajzi, the no-nonsense woman at the heart of the Kufuor hotel storm has folded her sleeves for a long drawn-out battle with a new threat to haul President Kufuor to a United States Court and unnamed international transparency institutions for what she calls private matters and lack of transparency in the handling of the Kufuor hotel transaction. She also issued an amorphous threat of dragging Mr. Anthony Saoud, the Saoud family and Mr. Kwabena Agyapoing, the presidential spokesperson to the same unnamed court over what she sees as an attack against her dignity as an individual. The Iraqi-American woman maintained that she and her lawyers have collated all the relevant incriminating documents and begun the processes of ensuring that the truth about all the transaction is told to the people of this country.
"Also, we are preparing a private lawsuit against the President and I don't think they will complete it now. My lawyers have a reason for that.
They attacked me and I'm also going to protect my family. We are also making a lawsuit against Saoud's-son-in-law and Mr. Saoud.
"The document of the purchase of the hotel, we are going to send them, I have already given it forward to my lawyers, very important lawyers to draw and put all these documents and international transparency affair but not of course in Ghana." "Because, you see, international transparency in the world, non-governmental institutions recognized by all the countries just like CHRAJ in your country." "First, they said I'm a blackmailer and a lair. They are the only liars. You have the evidence that I'm telling the truth.
They are going to be sued in two countries and not in Ghana because I know that Mr. Saoud's son-in-law is an MP and he should be questioned in parliament.
"When I talk, it is because I have every document in my possession. I have a copy of the agreement made between Kufuor and Saoud buying the hotel."
"I have even the copy where they are buying the house between the hotel and President Kufuor's house. I even have a document signed between the Kufuor's. She said she does not have confidence in the Ghanaian legal system because President Kufuor has put these people in place and I don't understand how they are going to make investigations when the President gives their positions."
She scoffed over what she sees as attempts to compare her with Ms. Cotton saying, she is not a thief, unlike Ms. Cotton. "And somebody has compared me to Ms. Cotton because Ms. Cotton is a thief. Nobody paid me even a bottle of water. I didn't take anything from Ghanaians to the contrary, I gave them," she stated.