NSA Clears Air… On Multi-Purpose Courts Cash Saga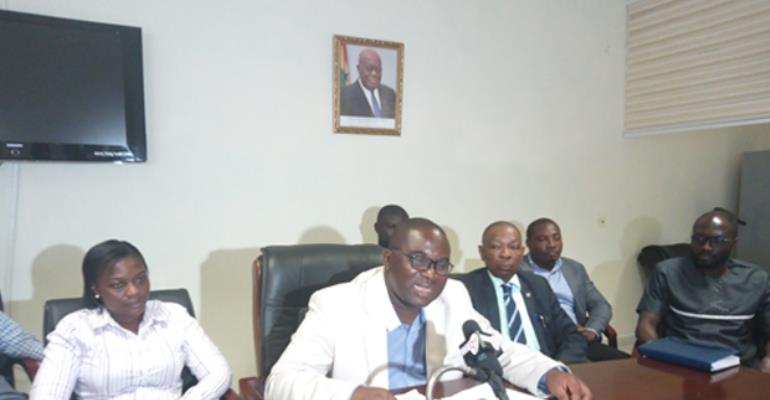 Director General of the National Sports Authority (NSA) Robert Sarfo Mensah has indicated that media reports on the construction of multi-purpose courts are false.
Pouring cold water on the report in a press conference yesterday, he admitted that the four contractors engaged for the projects –M/S CAKS Construction, M/S GT Freeman, M/S Charles & Stephen and M/S Desmith had been overpaid.
He mentioned that the four construction firms were tasked to construct courts at Enchi (Dadieso), Western Region, Legon, Tamale and the National Sports Authority (Accra) after NSA received an amount of $2m from AngloGold Ashanti in the 2009 through the Youth Ministry.
The NSA boss told the press that a Management Report from the Auditor General has tasked his outfit (former NSA Management) to retrieve the excess cash of ¢175.31 and not $2m as reported by the media.
Consequently, a five-member Committee headed by an Auditor's General official has been set up to probe further into the matter.
Meanwhile, Mr Sarfo Mensah has revealed that the mandatory annual National Sports Festival would be launched on August 16 in Kumasi.
The festival, scheduled for August 31 to September 7 which will be hosted at two venues- Baba Yara Stadium and the Paa Joe Park (KNUST) will see youthful sportsmen and women nationwide competing in nine disciplines- tennis, table tennis, athletics, soccer (Ladies-U-17), volley and handball ball, taekwondo and para-sports.
He mentioned that a ¢2m budget was earmarked for the one-week festival which covers honorarium for officials, transport, food accommodation for players and officials, venue, facilities etc.
"..We are just coming out from elections, I believe this event will ensure unity, provide the needed platform for our youth to showcase their talents, boost economic activities during the period as well as ensure networking," said the NSA chief.
He has therefore called on corporate Ghana to come on board to make it an epoch making one.
President Akufo Addo and Asantehene are expected to grace the launch next week.
By Kofi Owusu Aduonum